Such videotaped beatings have become depressingly commonplace. Their most prominent victim is 23-year-old Malika Soltayeva.
Soltayeva's Story

Soltayeva was seized by Chechen security forces in March after her husband accused her of committing adultery with a Russian serviceman.

Despite being pregnant, Soltayeva was subjected to a two-hour beating and repeated humiliation at the hands of her captors.

The men, all local authorities in the Chechen town of Argun, used cell phones to record what was officially termed an investigation into her alleged crimes. A video obtained by RFE/RL shows her being followed by residents and security forces as she leaves the building where she was tortured. Her head shaven and painted green, she is forced to dance and is subjected to taunts and physical abuse.
The video of Malika Soltayeva being subjected to public humiliation:
RealVideo
The woman's aunt, Zarema Soltanova, described Soltayeva's ordeal in an interview with RFE/RL's North Caucasus Service.

"She was beaten," Soltanova said. "They forced her to confess that she ran away with a Russian, that she became pregnant with his child. They used foul language with her and made her undress. They poured tap water over her hair and shaved her head. They shaved all the hair on her entire body. They painted crosses on her body and were kicking her."
Husband Involved?
Soltayeva raised her husband's suspicions after returning from an unexplained monthlong absence.

Her family reported her missing during that time, and Soltayeva insists she was kidnapped.

Prior to her disappearance, she had worked in a small shop in Argun frequented by many Russian soldiers. But, she says, she never had an affair.

"Many Russians came to buy things to the place I worked but I have no idea why they invented the claim that I had an affair," Soltayeva said.

Soltayeva lost her baby as a result of the beating.

She says the ordeal was the result of the misplaced jealousy of her husband, who called on the so-called "kadyrovtsy" loyal to Kadyrov to organize the assault in order to restore the family's pride.

"He [the husband] came together with them, he led them. He is the one who sent me to this ordeal," Soltayeva said.

The video of Soltayeva gained exposure in the West last week, when a correspondent from "The New York Times" published an article on the visual record of her ordeal.
Not An Isolated Incident


But her case is not unique. Numerous such videos have recorded vicious beatings of both men and women at the hands of the kadyrovtsy. In one such recording obtained by RFE/RL, the kadyrovtsy laugh and jeer as they slap and humiliate a young woman.
The videos are later circulated by cell phone, intimidating civilians and fueling the security forces' taste for self-promotion. Mobile-phone use in Chechnya has risen rapidly in recent years, making it a powerful device for communication.

Natasha Estemirova works in the Chechen capital Grozny for the Moscow-based human rights group Memorial. She says the recorded beatings are a grotesque new form of cruelty in a region already notorious for torture and disappearances.
A video of an unidentified woman being assaulted during an interrogation:
RealVideo
"From the point of view of human rights, it is a violation, because a human is degraded in such a terrible way," Estemirova said. "A human being is being placed outside the society, outside the defenses provided by a civilized state."
A Show Of Bravado

Russian military expert Pavel Felgenhauer says the cell-phone videos are a natural extension of life in Chechnya, which remains in the throes of an entrenched conflict in which Russian federal forces, Kadyrov's soldiers, and militant separatists all play a part.

Felgenhauer says violence, machismo, and religious extremism prevail in many parts of Chechnya. The taped beatings , he says, are a way for the kadyrovtsy to brag about their exploits.

"They simply behave like hooligans, like 'thugs,' as they say in English," Felgenhauer said. "They are defiant, not afraid of any punishment. It is normal for them to live for the sake of violence and for bullying others. And, of course, they have almost no education at all."

Felgenhauer says that many of the younger kadyrovtsky know no other way of life, and that they often compete with one another to see who can display greater cruelty and toughness.

"It was observed long ago that kadyrovtsy compete with each other about who has the biggest gun, and who has most modern and expensive mobile phone," Felgenhauer said. "They have the phones, which can also film videos. So they film [the violence] and brag about it. Later these materials are spread around and reach a general market."

(RFE/RL's North Caucasus Service contributed to this story.)
The Chechnya Conflict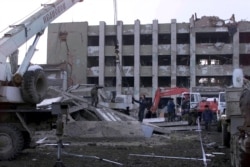 The aftermath of a December 2002 Chechen resistance attack on the main government building in Grozny (epa)


CHRONOLOGY
The
fighting in Chechnya
has raged, with short breaks, since 1994. It has brought misery, death, and destruction to the North Caucasus republic and to Russia as a whole. View an
annotated timeline
of the conflict.

ARCHIVE
RFE/RL's complete coverage of Russia's war-torn Republic of Chechnya.