Of these, 63 have been freed, eight were found dead and nine were put on trial. Memorial said the other 45 are unaccounted for.
The organization added that the state of human rights in Chechnya is being monitored in only part of the republic.
(Interfax)

The Chechnya Conflict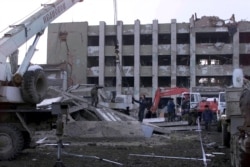 The aftermath of a December 2002 Chechen resistance attack on the main government building in Grozny (epa)


CHRONOLOGY
The
fighting in Chechnya
has raged, with short breaks, since 1994. It has brought misery, death, and destruction to the North Caucasus republic and to Russia as a whole. View an
annotated timeline
of the conflict.

ARCHIVE
RFE/RL's complete coverage of Russia's war-torn Republic of Chechnya.