Activists from the Memorial group said on June 7 they discovered the detention center in Grozny's southern Oktyabrsky district last week. They took photographs and video footage of the prison cell walls on which inmates had left various notes, including names and detention dates.
Yury Orlov, the group's head, said the detention center should have been closed several years ago, but apparently continued functioning until last month. Memorial has submitted the purported evidence to prosecutors.
Chechen prosecutor Valery Kuznetsov said a preliminary investigation had been launched into the claims. But Chechnya's ombudsman, Nurdi Nukhazhiev, denied the existence of any secret prison.
The International Helsinki Federation for Human Rights (IHF) last month alleged that Russian security services and their Chechen allies are operating clandestine prisons in the breakaway province.
(AP, gazeta.ru)
The Chechnya Conflict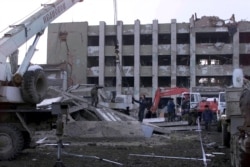 The aftermath of a December 2002 Chechen resistance attack on the main government building in Grozny (epa)


CHRONOLOGY
The
fighting in Chechnya
has raged, with short breaks, since 1994. It has brought misery, death, and destruction to the North Caucasus republic and to Russia as a whole. View an
annotated timeline
of the conflict.

ARCHIVE
RFE/RL's complete coverage of Russia's war-torn Republic of Chechnya.