More Than 100 Abducted In Chechnya This Year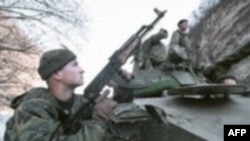 A Russian soldier on a tour of duty in Chechnya (file photo) (AFP) June 5, 2006 – The Russian human rights organization Memorial says more than 100 civilians have been abducted in Chechnya this year.
Of those, 38 are still missing, Memorial says. The rest were either killed, confirmed as having been released, or thought to have been released.
Memorial says these numbers relate only to the small portion of Chechnya to which it has access.
(AP, Interfax)


RFE/RL's complete coverage of Russia's war-torn Republic of Chechnya.
CHRONOLOGY
An
annotated timeline
of the Chechnya conflict.