PRAGUE, May 23, 2006 (RFE/RL) -- As Lamzar Samba, a student from Senegal, was leaving a popular St. Petersburg nightclub in April, he was killed by a gunshot to the neck.
Russian police on May 22 detained five suspects over the killing. A sixth suspect was killed last week by police while allegedly resisting arrest.
The attack on the student was one of a spate of racially motivated attacks in Russia in recent weeks. Rights watchers say such attacks are on the rise.
Amnesty International's annual report notes that in 2005 in Russia there were at least 28 killings and 365 assaults motivated by racial hatred. Foreigners and Russian citizens from Chechnya and elsewhere in the North Caucasus have been the main targets.
Backsliding In Russia
Irene Khan, Amnesty's secretary-general, says there have been many other disturbing signs in Russia over the past year.
"We have seen the Russian government introducing restrictions against NGOs [nongovernmental organizations], clamping down on human rights defenders and journalists," Khan said. "We have seen the Russian government totally ignore and refuse to take action against its own security forces in Chechnya, who have committed human rights abuses."
Russia's apparent backsliding on human rights has caused many observers to question the country's tenure as chair of
the Council of Europe's Committee of Ministers
and presidency of the Group of Eight (G8) leading industrialized nations.
Judit Arenas, a senior spokeswoman for Amnesty, says Russia has taken some positive steps. She cites President Vladimir Putin's recognition of racism as a problem during his recent address to the nation.
But she adds that Russia should do more and should set a leading example on the international stage.
"Russia actually blocked major resolutions at the UN Security Council on Darfur," Arenas said. "It's got a major problem on its doorstep in Chechnya, which has not been resolved. There are other issues in the Caucasus and it has to lead by example and actually clearly demonstrate that if it wants to be a global player [then] it must actually abide by the rules of the game."
The Amnesty report criticizes Belarus and Azerbaijan for their violent crackdowns on opposition activists and journalists. In Armenia, despite commitments made to the Council of Europe, conscientious objectors to military service still remain in jail.
Do 'Colored Revolutions' Make A Difference?
But what of Ukraine and Georgia, two countries that have improved their democratic records since their recent "colored revolutions"?
The Amnesty report criticizes both countries for reports of torture and ill treatment by law-enforcement officers.
Amnesty highlights reports that Georgian police have placed plastic bags over detainees' heads and beaten prisoners with gun butts.
However, the report points out that in both Ukraine and Georgia, senior officials have begun to address the issue.
In Ukraine, the new government after the 2004 Orange Revolution changed legislation to allow state officials to be charged with torture.
And in Georgia, several high-ranking politicians have pledged to fight police abuse. There has also been more extensive monitoring of detention facilities.
Arenas says Georgia has been willing to listen to recommendations and implement legal amendments.
"The problem has actually been that that message has actually not translated down to the level of law-enforcement officials, who are the ones who continue to torture and ill-treat people," Arenas added.
The report notes that police in Georgia continue to cover up crimes and detainees are often afraid to file a complaint for fear of reprisals.
Human Rights In Georgia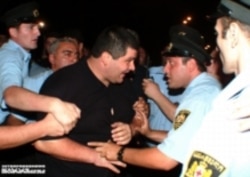 Georgia's police have been accused of using excessive force (official site)


READ
'CULTURE OF IMPUNITY':
Georgian President Mikheil Saakashvili's government has had
a checkered human rights record
since it came to power after the 2003 Rose Revolution. The international community has welcomed the steps taken by the new Georgian leaders to refine the legal mechanisms needed to combat rights abuses. But it also blames the government for failing to ensure those mechanisms are properly implemented
....(more)
RELATED ARTICLES
Rights Group Sees Rise In Police Brutality In Georgia
Citizens See No Improvement In Society, Economy After Revolutions
Helsinki Report Finds Human Rights Problems Plague Entire Region