MOSCOW, May 4, 2006 (RFE/RL) -- The human rights organization Amnesty International today called on the Russian government to take decisive action to stem a wave of racially motivated attacks in the country.
The report, entitled "Violent Racism Out Of Control," accuses Russian authorities of turning a blind eye to hate crimes.
Victoria Webb, an Amnesty researcher on the Russian Federation, says Russia needs a comprehensive, federal strategy to fight racism.
"We are calling on the Russians to establish a plan of action to really tackle the whole issue, not only of racist attacks, but racism and discrimination in all its aspects in Russian society."
"While we recognize that some representatives of the authorities, including President [Vladimir] Putin, have acknowledged the problem, we believe that the authorities are failing to take adequate steps to tackle the issue," she said. "We are calling on the Russians to establish a plan of action to really tackle the whole issue, not only of racist attacks, but racism and discrimination in all its aspects in Russian society."
The number of racist attacks in Russia has surged over the past few years. Amnesty says that 28 people were murdered and 366 assaulted on racial grounds in 2005.
Not only foreigners, but also members of ethnic groups holding Russian citizenship, have come under attack in recent years -- particularly Roma, members of the Jewish community, and people from the North Caucasus.
Over the past few months alone, Russia has seen a series of violent hate crimes.
In January, a 20-year-old skinhead, Aleksandr Koptsev, burst into a Moscow synagogue and stabbed eight people with a hunting knife.
In February, a man from Mali was stabbed to death in St. Petersburg.
On March 24, a Ghanaian man was beaten up in a St. Petersburg suburb. One day later, a 9-year-old girl of mixed race was beaten and stabbed in the face and neck, also in St. Petersburg.
The report notes that the real number of attacks is likely to be much higher since many victims feel too much distrust toward the police to report the attacks.
Amnesty International also criticizes Russian prosecutors for filing many racially motivated attacks as "hooliganism," a charge which carries lighter sentences.
In March, a Russian court found eight teenagers guilty of hooliganism in connection with the murder of a 9-year-old Tajik girl in St. Petersburg in February 2004. The verdict outraged rights activists, who described it as "a moral catastrophe." Khursheda Sultonov had been stabbed stabbed nine times in the chest, stomach and arms.
A Tarnished Image
The report says says Russia's poor record on combating racism tarnishes its image abroad and raises questions about its international status.
Russia holds a number of high-profile positions this year. It is chairing the G8 group of industrialized nations, and also the committee of ministers at the Council of Europe, seen by many as Europe's human rights watchdog.
"All eyes are on Russia and it would really be inexcusable not to take the opportunity to really step up the fight against racism and to implement these obligations in full," says Webb.
Amnesty International's report advises Russian authorities to work more closely with antiracism organizations and experts.
It also urges the government to do more to ensure the safety of people campaigning against racism in Russia, who themselves often come under physical threat.
It cites the case of Nikolai Girenko, a prominent expert on racism who was gunned down through the door of his St. Petersburg apartment in June 2004. His testimony had helped put several neo-Nazis in jail. Girenko's murderers have yet to be identified and brought to justice.
Dmitry Krayukhin, the head of United Europe, a rights group based in the western Russian city of Orel, also told Amnesty International that he had received a number of death threats.
Amnesty researcher Webb added that she found it disconcerting that Russia, which incurred a huge loss of life to defeat Nazi Germany during World War II, tolerated the proliferation of Nazi symbols and ideology.
Epidemic Of Hate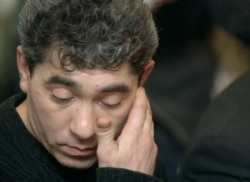 Yusuf Sultonov, whose 9-year-old daughter was beaten and stabbed to death in St. Petersburg on February 9, 2004 (TASS)

EXTREMISM ASCENDANT: More than half of Russians have xenophobic views, according to a report published in August 2005. In the report, rights groups say that -- despite progress in some areas -- racism, xenophobia, and anti-Semitism remain rife in Russia. But what worries watchdogs most are recent moves by nationalist-patriotic movements to form paramilitary groups....(more)
RELATED ARTICLES
A Timeline Of Recent Racial Incidents
Russian Ombudsman Condemns Hate Crimes
Hate Crime Trial Highlights Mounting Racism
Minister Says Russia Can't Stop Xenophobia Alone
For African Students In Russia, Affordable Education Comes At A Price
ARCHIVE
To view an archive of all of RFE/RL's coverage of Russia, click here.

SUBSCRIBE
For a regular review of civil-society developments throughout RFE/RL's broadcast region, subscribe to "RFE/RL (Un)Civil Societies."


RFE/RL IN RUSSIAN: Visit RFE/RL's Russian-language website, featuring news, analysis, features, streaming audio, and more in Russian, courtesy of RFE/RL's Russian Service.