Interfax cited an unnamed source in the prosecutor's office as saying two attackers followed the girl into the entrance hall of her apartment building and stabbed her in the neck and head.
The report says the girl is a Russian citizen, with a father from the African country of Mali.
Prosecutors have opened a criminal case for attempted murder.
Correspondents say racial attacks appear to be on the rise in Russia. The killing of a 9-year-old girl from Tajikistan in St. Petersburg in 2004 aroused concern about a series of racially motivated attacks in the city.
(Reuters)
Campaign Advertising Sparks Controversy
Campaign Advertising Sparks Controversy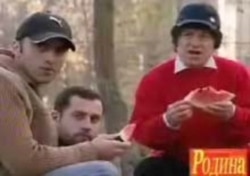 A Moscow court has banned Rodina (Motherland), a nationalist opposition party, from running in the December 4 elections to Moscow's City Duma. Judges ruled that the party's campaign advertisement incited racial hatred. The decision has incensed Rodina's leader, who has accused the authorities of trying to get rid of a powerful opposition force
....(more)
See also: