Bush appealed to the people of the Middle East to understand that Western nations have no quarrel with them, but with the extremists among them.
Bush said these extremists "spread propaganda" to confuse ordinary Muslims by accusing the West of making war on Islam. That, he said, simply isn't true.
"We respect Islam. But we will protect our people from those who pervert Islam to sow death and destruction," Bush said. "Our goal is to help you build a more tolerant and hopeful society that honors people of all faiths and promotes the peace."
U.S. Supports Democracy, Moderates
Bush addressed the people of Iraq and Afghanistan, saying that because of invasions led by the United States, both countries now are represented in the United Nations by democratically elected governments.
He said the desire for democracy is spreading throughout the Middle East. Bush promised his support for what he called moderate political movements in the region, and he urged other nations to lend their help, as well.
"Freedom, by its nature, cannot be imposed, it must be chosen," bush said. "From Beirut to Baghdad, people are making the choice for freedom. And the nations gathered in this chamber must make a choice, as well. Will we support the moderates and reformers who are working for change across the Middle East, or will we yield the future to the terrorists and extremists? America's made its choice. We will stand with the moderates and reformers."
Reaching Out To Iranians
Bush also spoke directly to the people of Iran, saying Westerners respect them, their country, their history, and their culture. The problem, he said, is their current government.
"You deserve an opportunity to determine your own future, an economy that rewards your intelligence and your talents, and a society that allows you to fulfill your tremendous potential," he said. "The greatest obstacle to this future is that your rulers have chosen to deny you liberty and to use your nation's resources to fund terrorism and fuel extremism and pursue nuclear weapons."
Iran has taken up much of Bush's time since he arrived in New York on September 18. Earlier in the day, he met with French President Jacques Chirac to discuss their different approaches to the Iran issue.
Bush has accused Iran of stalling talks on its nuclear program, which European countries and the United States suspect is aimed at developing nuclear weapons. Iran says it is interested only in peaceful nuclear power and that the West is trying to deny it the technology to improve its energy resources.
Question Of Sanctions
Bush wants to punish Iran, perhaps with UN sanctions, for failing to meet a deadline of August 31 to suspend uranium enrichment. Iran wants to hold talks with European countries and the United States. Bush says his administration won't take part in the talks unless Iran first suspends the program.
On September 18, Chirac suggested a compromise under which Iran wouldn't have to suspend the program until the talks began. Despite their differences, Bush said today that he and Chirac share the same goal.
In his speech today, Bush said Iran isn't being candid with its people about the nature of its dispute with the West.
"Iran must abandon its nuclear weapons ambitions. Despite what the regime tells you, we have no objection to Iran's pursuit of a truly peaceful nuclear power program," Bush said. "We're working toward a diplomatic solution to this crisis. And as we do, we look to the day when you can live in freedom and America and Iran can be good friends and close partners in the cause of peace."
Bush also addressed the people of Syria, saying they have a long and proud history. But he said their current government has made their country "a crossroads for terrorism" by allowing safe passage through its territory of money and weapons destined for the militant groups Hizballah in Lebanon and Hamas in the Palestinian territories.
The Middle East wasn't the only subject of Bush's speech. He urged the UN to increase its humanitarian aid to the Darfur refugees of the Sudanese conflict. He applauded the UN effort to strengthen the African Union force, and urged NATO to offer it logistical support.
And Bush announced that he has named Andrew Natsios, the former administrator of the U.S. Agency for International Development (USAID), as his special envoy to help ensure the safety and well-being of the Darfur refugees.
Afraid Of Sanctions?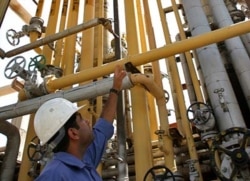 Comprehensive sanctions could further slow development in Iran's strategic oil and gas sectors (Fars)
WHAT DOES TEHRAN REALLY THINK? On August 22, Radio Farda correspondent Fatemeh Aman spoke with Alex Vatanka, Eurasia editor for Jane's Information Group, by telephone from Alexandria, Virginia. Vatanka discussed the possible impact that comprehensive sanctions could have for Iran.
Radio Farda: Some Iranian authorities are trying to create the impression that they aren't concerned about the possibility of international sanctions against it. They emphasize that what Iran has achieved so far has happened despite the sanctions already in place against it. Are they really not afraid of sanctions?
Vatanka: I think that what the Iranians are trying to do is to continue to play this balancing act. On the one hand, they are trying to say, "Look, we have done without you for 27 years; we can continue." On the other hand, if you look at every other major Iranian overture toward the U.S., obviously what they are hoping to do is remove those sanctions. It is the sanctions that have been the biggest obstacle to a genuine expansion in the Iranian economy. It is the sanctions and U.S. policies vis-a-vis Iran that have, for instance, kept Iran from joining the World Bank. It is sanctions and so on that have made the Iranian oil industry have such a tough time in bringing investment into the strategic oil and gas sectors. People like [former Iranian President Ali Akbar Hashemi-]Rafsanjani back in the mid 1990s even kept certain fields untouched because the idea was that U.S. companies should have those once the sanctions were lifted.
I think sanctions are quite important to the Iranians, but at the same time what they are trying to say is, "Don't assume that we are going to fall off our chair just because you mentioned the sanctions card." It is part of a kind diplomatic chess game going on by Tehran. But remember if we look and listen to Iranian reformists, this is being openly debated inside Iran. The question that is being asked of [President Mahmud Ahmadinejad and his entourage] is, "What is the ultimate objective?" Is it just Islamic independence? Is it just the ability to enrich uranium? The debate in Iran by the reformists -- and I think a lot of people would sympathize with this -- is, "What are we being sanctioned for exactly and what policies do you have to make sure that those sanctions don't hit us harder than we have already been hit?"
Remember, the big issue here is this: Iran has been sanctioned by the U.S. Iran has never faced comprehensive United Nations sanctions. The Iranian people have never suffered on a scale that the Iraqi people, for instance, suffered because of such sanctions. So it is kind of disingenuous of these senior leaders to pretend that Iran has already gone through comprehensive sanctions. Iran has not. And it will be totally different set of circumstances that will have a totally different impact on Iranian society and the economy, should the UN impose comprehensive sanctions on the country.


THE COMPLETE PICTURE: RFE/RL's complete coverage of controversy surrounding Iran's nuclear program.
CHRONOLOGY
An
annotated timeline
of Iran's nuclear program.