Addressing a gathering of security officials in Bishkek, Bakiev said their efforts had been "perfectly right" and urged them to be tough with those whom he accused of seeking to destabilize the country.
"All those who have come to Kyrgyzstan with weapons and who will attempt something with their weapons will be met with exactly those same methods," he said. "These people must be eliminated. Those who run our [law enforcement agencies] have no other way to deal with them."
Among those killed in recent weeks was Rafiq Qori Kamoluddin, a prominent Uzbek imam known for letting members of the banned Hizb ut-Tahrir radical religious grouping pray at his mosque.
The SNB initially described Kamoluddin as a "wanted terrorist," before suggesting he may have been shot dead by accident.
Kyrgyz rights groups have criticized Bakiev's his heavy-handed security approach and accused him of imitating Islam Karimov, his Uzbek counterpart.
But Bakiev today said religious extremism was gaining ground in Kyrgyzstan and was no longer confined to the country's impoverished south.

Hizb Ut-Tahrir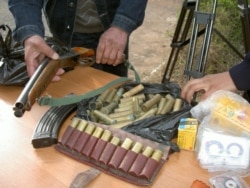 Arms and leaflets allegedly confiscated from Hizb ut-Tahrir members in Kyrgyzstan in May (RFE/RL)

ATTRACTIVE TO THE YOUNG: It is virtually impossible to estimate the size or composition of Hizb ut-Tahrir's membership in Central Asia, because the controversial movement is banned in most places. But some observers say anecdotal evidence suggests the group's core of younger members is growing....(more)
RELATED ARTICLES
Russia Approves List Of 17 'Terrorist' Groups
Extremist Threats, And Doubts, In Kyrgyzstan, Tajikistan
Hizb Ut-Tahrir's Calls For Islamic State Find Support
Hizb Ut-Tahrir Challenges Britian's Proposed Ban
Lone Islamic Party Pursues Dual Path In Tajikistan

A thematic webpage devoted to issues of religious tolerance in RFE/RL's broadcast region and around the globe.