Similar commitments were made at a meeting of foreign ministers from Iraq's neighbors on the sidelines of the UN General Assembly meeting in New York on September 21. Indeed, such pledges have been routine since 2003, but it seems few states have taken steps to truly buttress their border areas.
Iraqi Foreign Minister Hoshyar Zebari told London-based "Al-Sharq al-Awsat" last week that nearly all of Iraq's neighbors were interfering in Iraqi affairs to some degree, the daily reported on September 16. "There are interferences in Iraq's affairs from all neighboring countries to one degree or another, with the exception of one or two countries," he said. Zebari added that several states were betting on the failure of the political process and, with it, the democratic project in Iraq.
Zebari said that the government has raised the issue of external involvement in Iraqi affairs on several occasions. For example, a specialized team working on security affairs accompanied Prime Minister Nuri al-Maliki on his recent trip to Iran. "They took files, information, and evidence, and made a clear request to end the Iranian interference in the Iraqi security file," he said.
Homegrown Motivation
The ministers from Turkey, Syria, Jordan, Saudi Arabia, Kuwait, and Iran, as well as Egypt and Bahrain attended the September 18-19 Jeddah conference and pledged their willingness to help Iraq.
Two countries that have been praised for taking an active role on border security are Jordan and Saudi Arabia. Both have had their own experience with terrorism and Al-Qaeda. For Saudi Arabia, it was homegrown terrorism inspired by Osama bin Laden himself; for Jordan, it was Al-Qaeda in Iraq, led by Jordanian national Abu Mus'ab al-Zarqawi, which launched two major attacks in the past two years on the Jordanian capital Amman and the port city of Al-Aqabah.
Both countries have sponsored training camps for Iraqi police and security forces. "We need to improve the security situation in Iraq with more border control," Iraqi Interior Ministry spokesman Ala al-Ta'i told Reuters this week. "We want...logistical support including more equipment and training of Iraqi police in [other] countries, like Saudi Arabia, as Jordan have done," he added.
Kuwait has also taken steps to beef up its border security, while Syria and Iran remain problematic neighbors. The majority of foreign fighters now present in Iraq are believed to have entered the country through those two countries' porous borders.
Long, Difficult Borders
Syria's border with Iraq is some 605 kilometers long, and has been the main focus of Iraq's border police since the force was established in 2004. Iran's border with Iraq is significantly longer, about 1,458 kilometers long. Both borders cover vast desert regions, and the Iran-Iraq border includes mountainous regions that are difficult to patrol.
Syria has claimed that it has done all it can to secure its border area with Iraq. In 2005 it insisted it could do no more without advanced night-vision equipment, which it attempted to purchase from Britain before the United States
blocked the sale
on the grounds that the Syrians might use the equipment to aid the terrorists.
Iraqi Interior Minister Jawad al-Bulani presented the ministers attending the Jeddah conference with a list of foreign fighters now under arrest in Iraq. U.S. Major General William Caldwell, spokesman for the U.S.-led coalition forces in Iraq, told reporters at a September 20 press briefing in Baghdad that Iraqi and coalition forces have arrested 630 foreign fighters from 25 different countries since January 2005. Some 370 of them remain in custody, with the majority coming from Egypt, Syria, Sudan, and Saudi Arabia.
The ministers signed a protocol at the Jeddah meeting for security cooperation and coordination "to support and assist the Iraqi government in the field of training police and security forces in order to boost Iraqi security and stability and safeguard its unity and territorial integrity." Highlighting "the need to crack down on the activities of terrorist groups which jeopardize Iraq's security as well as the security of its neighbors," the final statement of the meeting noted, "We denounce terrorist activities targeting the population, security forces, political and religious leaders and the places of worship which basically target Iraq's security and unity."
Region's Security Interconnected
While all of the interior ministers from Iraq's neighbors vowed to help boost security, it is clear that some are more intent on keeping their commitment than others.
"The continuation of violence in Iraq and the impact of that on the social fabric in the country could lead to extremely sensitive problems...in the whole region," Turkish Interior Minister Abdulkadir Aksu said. Saudi Arabia's interior minister, Prince Nayif bin Abd al-Aziz, warned of the dangers of escalating insurgency and sectarian violence. "The dangers of such a situation, God forbid, are not a jeopardy to Iraq alone, but they will have an impact on the security of the international community and [Iraq's] neighbors," he said.
Meanwhile, Iranian Interior Minister Hojatoleslam Mustafa Pur-Mohammadi refuted accusations that his country was helping to fuel the insurgency in Iraq, through its support of Shi'ite militias. "Freedom and democracy cannot be achieved by accusing other countries and conspiring against neighboring states to shift blame on others in the region to cover up failure," he claimed.
The problem remains that as long as some states ignore the potential for a spillover effect, and the threat that it causes to their own regimes, they will continue to pay lip service to the issue. "Iraq's security is the region's security," Iraqi police commander Major General Fakhir Marbush al-Ka'bi said in an interview with Jeddah's "Ukaz" published on September 17. "Terrorism is a disease. Unless we combat it now, it could spread to other countries. Therefore, all the countries must cooperate to combat it."
Iraq And Iran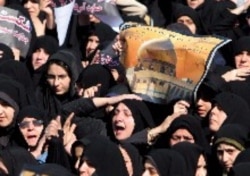 Iranian Shi'a protesting the Golden Mosque Bombing in Iraq on February 24


WHAT IS GOING ON? On March 8, RFE/RL's Washington office hosted a roundtable discussion on relations between Iraq and Iran. Although most analysts agree that Iran has been actively involved in Iraq since the U.S.-led military operation to oust former Iraqi President Saddam Hussein, they continue to debate the nature, extent, and intent of that involvement.
The RFE/RL briefing featured WAYNE WHITE, former deputy director of the U.S. State Department Bureau of Intelligence and Research's Office of Analysis for the Near East and South Asia, and A. WILLIAM SAMII, RFE/RL's regional analyst for Iran and editor of the "RFE/RL Iran Report."
LISTEN
Listen to the complete RFE/RL briefing (about 75 minutes):

Real Audio
Windows Media
RELATED ARTICLES
Iran/Iraq: Bilateral Ties Improving Despite U.S. Worries
Renewed Speculation About Tehran And Instability In Iraq
Iran/Iraq: Neighbors Mending Ties, But Outstanding Issues Remain
ARCHIVE
RFE/RL's
coverage of Iran
. RFE/RL's
coverage of Iraq
.