Ramadan, the period of fasting and reflection, is this year a time of worry for Muslims in Iraq.
Sunnis in Iraq and elsewhere across the Muslim world began Ramadan on September 23, and while it is generally a time of quiet introspection, Iraq has seen increased violence during the holy month in recent years.
"We pray to God to bring all Iraqis together and unite us during this month and to bestow peace and security on all Iraqis."
Prime Minister Nuri al-Maliki called on Iraqi Shi'a and Sunnis to use the time put aside their differences and end sectarian violence.
Baghdad resident Muhammad Abud says he hopes al-Maliki's call will be heard. "This month is holy because it is chosen by God," Abud says. "So we pray to God to bring all Iraqis together and unite us during this month and to bestow peace and security on all Iraqis."
Meanwhile, at least five people were killed and some 20 others injured in violence around the country today. On September 23, at least 30 people were killed when a kerosene tanker was blown up in Baghdad's Shi'ite district of Al-Sadr City.
Economic Concerns
In the Lebanese capital, colorful decoration filled the streets and people headed to street vegetable markets to shop for dinner.
Beirut resident Elham Nemani complains about the high prices following a 34-day war between Israel and the Shi'ite Hizballah militia.
"A family of three kids is able to manage, but what can I do? I have six children, how can I feed them? It is very difficult for us, and everything is more expensive now," she says. "Taxi and buses are charging us more. Why do we have to pay more? They are not raising salaries."
Israel has imposed a transport embargo on Lebanon for nearly two months.
In Iran, authorities announced on September 22 that red meat and chicken will be distributed at lowered prices in the coming month.
Religious Observance
The most prominent event of Ramadan is the fasting practiced by observant Muslims. Eating, drinking, and smoking are not allowed between dawn and sunset.
During Ramadan, Muslims are also expected to put more effort into following the teachings of Islam and are meant to try to get along with each other better than they normally might.
The holy month ends with the festival of Eid al-Fitr.
Muslims in Indonesia, the world's most populous Muslim state, and Egypt as well as Catholic-majority Philippines marked the start of Ramadan today.
The secretary of Manila's Golden Mosque, Ronnie Pusaca, called on Muslims not to limit their observance of the teachings of Islam during Ramadan only.
"It's not only [during] Ramadan that we [must] be good," Pusaca says. "It's possible [and] it is advisable that the whole 12 months or the whole year round we [are] good to everybody."
The timing of Ramadan, which is stipulated in the Koran, varies in different countries depending on visual observations of the new moon and astronomical calculations.
The office of Grand Ayatollah Ali al-Sistani, one of the highest Shi'ite religious authorities in Iraq, has announced that Ramadan will begin on September 25 for the country's Shi'a.
The Hajj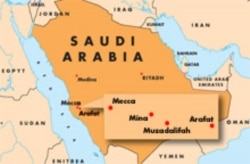 Click on the map for an enlarged image.

THE HAJJ: Every year, Islamic pilgrims converge on the Saudi holy city of Mecca for what is considered to be the world's largest single gathering of human beings -- the annual hajj pilgrimage, the fifth and final pillar of Islam. Hajj literally means "to set out for a place," and every able-bodied Muslim with the means to do so is expected to make the pilgrimage at least once in their lifetime, traditionally after first settling all their wordly affairs...(more)