This follows a bombing in Baghdad on September 23 in which at least 30 people were killed in the Shi'ite neighborhood of Al-Sadr City.
Meanwhile, Iraqi parliamentary groups today agreed to start debate on Shi'ite-proposed draft legislation that will allow the creation of federal regions in Iraq.
An aide to Shi'ite deputy parliament speaker Khalid al-Attiya said the parties had agreed however, that the creation of federal regions will not start until 18 months after parliament approves the measure.
Also today, the lawyer in charge of the defense team of former Iraqi President Saddam Hussein says the team will boycott his genocide trial.
Khalil al-Dulaymi, who is in charge of a nine-member defense team, cited alleged violations by the Iraqi court trying Hussein. He said it committed several violations of the law and "we will not just sit there gagged to give it legitimacy."
Hussein faces charges of committing genocide against Kurds in his government's Anfal campaign in 1987-88 in northern Iraq.
(compiled from agency reports)
Sectarian Iraq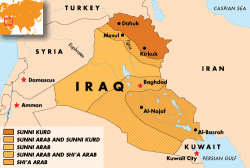 Click to enlarge the image.
SUNNI, SHI'A: Iraq is riven along sectarian lines, faults that frequently produce violent clashes and are a constant source of tension. Sectarian concerns drive much of Iraqi politics and are the main threat to the country's fragile security environment.


THE COMPLETE PICTURE: Click on the image to view RFE/RL's complete coverage of events in Iraq and that country's ongoing transition.