The comments follow reports suggesting the Jewish state is girding itself for a possible attack on Iran's nuclear facilities. But few observers, at this juncture, are willing to suggest that Israel has abandoned all hope of a diplomatic solution to the Iranian nuclear standoff.
Chilly From The Start

Ties between Israel and the Islamic Republic of Iran have always been tense.

The political and religious establishment that took power in Iran following the overthrow of the shah in 1979 has never officially recognized Israel. It has also been vocal and substantive in its support for the Palestinian cause.

But tensions between the two countries have escalated further as Tehran has resisted international pressure to abandon sensitive nuclear work. And since his election in 2005, Iranian President Mahmud Ahmadinejad has repeatedly called for the destruction of Israel.

Israeli forces' invasion of Lebanon in July was an attempt to destroy the Hizballah militia -- which Iranian officials are widely believed to have helped to form, train, and supply with weapons.

War Of Words

In her UN speech, Foreign Minister Livni accused Iran of threatening world values and said the international community must challenge the leadership in Tehran.

"There is no greater challenge to our values than that posed by the leaders of Iran," Livni said. "They deny and mock the Holocaust. They speak proudly and openly of their desire to 'wipe Israel off the map.' And now, by their actions, they pursue the weapons to achieve this objective to imperil the region and threaten the world."

Livni's comments were rejected by a member of Iran's delegation as a "smokescreen" for what he described as war crimes committed by Israel.

The exchange is the latest in a war of words between Tehran and Tel Aviv. But some observers speculate that Israel might be tempted to go beyond verbal attacks to deal with Iran.

Israel, like the United States, accuses Iran of secretly developing nuclear weapons. Iran insists its nuclear program is peaceful, and notes that Israel is the only country in the region that has nuclear warheads.

...But Could That Change?

Numerous reports in the Israeli media have suggested Israel could strike Iran's nuclear facilities militarily in order to set back its nuclear program -- as it did in 1981 against Iraq's Osirak plant.


The Israeli daily "Haaretz" reported on August 6 that the Israeli army has appointed a top Israeli officer to be in charge of preparing a possible war with Iran.
On September 9, the London-based daily "The Times " quoted an unnamed Israeli military official as saying Israel must be prepared for a "full-scale war" in light of what he called "Iran's growing confidence after the war in Lebanon."
"The Jerusalem Post" reported on August 24 that some senior officials are arguing that, "when it comes to stopping Iran, Israel may have to go it alone."
On September 19, "The Jerusalem Post" wrote that the Israeli military's Home Front Command is now investing much of its effort in confronting the threat of weapons of mass destruction in Iranian hands.
Ranking Threat
Ephraim Kam, a retired intelligence colonel and deputy head of Tel Aviv University's Jaffee Center for Strategic Studies, tells RFE/RL that Israeli leaders and decision makers now consider Iran to be the Israel's most significant strategic threat.
"If your neighbor tells you, 'I'm going to break your hands and legs,' what will you do?"
"The main effort of the Israeli government is to stop Iran before it acquires nuclear bomb -- to stop Iran means by either political ways, which is now the main course," Kam says. "And if it doesn't help, Israel has said more than once that it will use all the other options -- including the military one."

Zeev Schiff, a defense specialist for the daily "Haaretz," says Iran has displaced Palestinian militant groups as the top threat to Israel. Schiff tells RFE/RL that Israel is making preparation to "defend itself" against Iran.

"If your neighbor tells you, 'I'm going to break your hands and legs,' what will you do?" Schiff asks. "Of course you will defend yourself. Of course you will go to the police. Of course you will buy, maybe, a pistol. And of course you will be ready to shoot."
Dueling Agendas

Trita Parsi is an expert on Iran at John Hopkins University in the United States, and author of a forthcoming book titled "Treacherous Triangle: The Secret Dealings Of Iran, Israel and United States."
He believes it is very unlikely that Iran would attack Israel directly. Parsi tells RFE/RL that Israelis are more alarmed by the rise of Iranian power in the region.

"In the past, had it not been for Iran's rising power and disarmament of Hizballah, Israel would have been able to strike against Lebanon without much difficulty," Parsi says. "If Iran's power increases and Israel's maneuverability is inhibited, that also means that Israel will not be able to pursue unilateral peace deals, etc., and impose on the Palestinians."

Parsi also says he doubts the Israelis would attack Iran directly.

He suggests leaked reports of purported preparations for an attack on Iran are aimed at pressuring the United States not to compromise with Iran on the nuclear issue.

"To a large extent, the Israeli rhetoric about doing a military attack against Iran is aimed at pressuring the United States to take action. Because the Israelis know [that] if they take the action, it will not be fully successful and it will force the U.S. to get involved in it," Parsi says. "So it is a way of pressuring the U.S. to take action -- whether it is diplomatic, through sanctions, or militarily."

The Jaffee Center's Kam also thinks Israel is expecting Washington to take firm action against Iran.

"Israel believes that the main effort should be done by other governments -- above all, [by] the American administration if the political course fails," Kam says. "And if the American administration decides not to act militarily, then Israel will have to decide what to do. For the time being, it depends on other governments."

Washington Worries

U.S. officials have been pushing for sanctions against Iran since Tehran dismissed an August 31 UN Security Council deadline to give up uranium enrichment.

Washington has said it supports diplomacy in dealing with Tehran's nuclear program. U.S. President George W. Bush has said that all options are on the table to prevent Iranian access to nuclear bombs.

Some experts have expressed doubt that air strikes could destroy Iran's nuclear facilities -- some of which lie underground.

Kam says the military option is complicated and carries many risks, but he adds that the United States and Israel might decide the Iranian "danger" is great enough to warrant the risk.

"Iran can react -- there is doubt about it," Kam says. "Iran can react by using ballistic missiles, the range of which covers the entire territory of Israel. They can use terrorism; they can use Hizballah, and they can act against American targets in the Middle East."

Tehran has warned that any aggression against Iran country will incur a "lightning" response.

Staunch advocates of a diplomatic solution have warned that any attack against Iran could have "catastrophic effects."
Afraid Of Sanctions?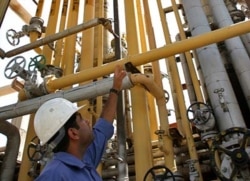 Comprehensive sanctions could further slow development in Iran's strategic oil and gas sectors (Fars)
WHAT DOES TEHRAN REALLY THINK? On August 22, Radio Farda correspondent Fatemeh Aman spoke with Alex Vatanka, Eurasia editor for Jane's Information Group, by telephone from Alexandria, Virginia. Vatanka discussed the possible impact that comprehensive sanctions could have for Iran.
Radio Farda: Some Iranian authorities are trying to create the impression that they aren't concerned about the possibility of international sanctions against it. They emphasize that what Iran has achieved so far has happened despite the sanctions already in place against it. Are they really not afraid of sanctions?
Vatanka: I think that what the Iranians are trying to do is to continue to play this balancing act. On the one hand, they are trying to say, "Look, we have done without you for 27 years; we can continue." On the other hand, if you look at every other major Iranian overture toward the U.S., obviously what they are hoping to do is remove those sanctions. It is the sanctions that have been the biggest obstacle to a genuine expansion in the Iranian economy. It is the sanctions and U.S. policies vis-a-vis Iran that have, for instance, kept Iran from joining the World Bank. It is sanctions and so on that have made the Iranian oil industry have such a tough time in bringing investment into the strategic oil and gas sectors. People like [former Iranian President Ali Akbar Hashemi-]Rafsanjani back in the mid 1990s even kept certain fields untouched because the idea was that U.S. companies should have those once the sanctions were lifted.
I think sanctions are quite important to the Iranians, but at the same time what they are trying to say is, "Don't assume that we are going to fall off our chair just because you mentioned the sanctions card." It is part of a kind diplomatic chess game going on by Tehran. But remember if we look and listen to Iranian reformists, this is being openly debated inside Iran. The question that is being asked of [President Mahmud Ahmadinejad and his entourage] is, "What is the ultimate objective?" Is it just Islamic independence? Is it just the ability to enrich uranium? The debate in Iran by the reformists -- and I think a lot of people would sympathize with this -- is, "What are we being sanctioned for exactly and what policies do you have to make sure that those sanctions don't hit us harder than we have already been hit?"
Remember, the big issue here is this: Iran has been sanctioned by the U.S. Iran has never faced comprehensive United Nations sanctions. The Iranian people have never suffered on a scale that the Iraqi people, for instance, suffered because of such sanctions. So it is kind of disingenuous of these senior leaders to pretend that Iran has already gone through comprehensive sanctions. Iran has not. And it will be totally different set of circumstances that will have a totally different impact on Iranian society and the economy, should the UN impose comprehensive sanctions on the country.


THE COMPLETE PICTURE: RFE/RL's complete coverage of controversy surrounding Iran's nuclear program.
CHRONOLOGY
An
annotated timeline
of Iran's nuclear program.