UN Reopens Mitrovica Bridge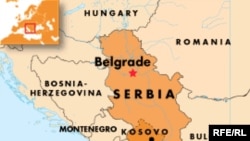 (RFE/RL) September 25, 2006 -- The United Nations says the main bridge in the troubled northern Kosovo town of Mitrovica has been reopened after being closed for a month owing to ethnic violence.
UN spokesman Larry Miller said traffic is allowed to cross in both directions.
The bridge over the River Ibar was closed in August when nine people were injured in a grenade attack at a Serb cafe near the bridge, which divides the ethnic Albanian south of the town from the Serb-controlled north.
(AFP)