Shortly after the trial got under way, Hussein was ejected from the courtroom after arguing with the judge. It's the third time he's been kicked out of the courtroom.
Hussein and six others could be executed if found guilty of genocide in the 1987-88 Anfal campaign against the Kurds. The prosecution claims that 182,000 people were killed in the campaign, in which poison gas was used against entire villages.
(AFP, AP, Reuters)
Saddam Hussein Biography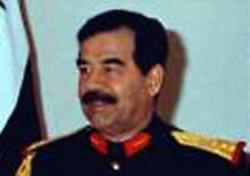 For a timeline of former Iraqi President Saddam Hussein's life from his rise within the ranks of the Ba'ath Party and the Revolution Command Council to his regime's ruthless persecution of perceived enemies at home and abroad, click here.