IRBIL, 24 January 2006 (RFE/RL) -- Former Iraqi President Saddam Hussein and his seven co-defendants are currently standing trial only for the killing laughter in 1982 of some 140 Shi'ite men and boys from the village of Al-Dujayl, an act of reprisal for an assassination attempt there on the former dictator.
Iraqi prosecutors have often said they have enough evidence against Hussein for at least 12 trials.
"We bribe some people, we share documents with some people, we stay in the deserts and some other parts of the country for three or four weeks to gather as much information as we can."
"We bribe some people, we share documents with some people, we stay in the deserts and some other parts of the country for three or four weeks to gather as much information as we can."
But they have chosen to try him first for the Al-Dujayl killings because it is the strongest case and -- they say -- sure to lead to conviction.
If it does, it remains uncertain whether the court will sentence Saddam to immediate punishment -- possibly to death -- or delay his punishment in order to conduct other trials.
A Casebook Barely Opened
Many Iraqis are very keen for further trials. Just ask Muhammad Ihsan, minister for human rights for the Kurdish Regional Government and leader of a team that is locating and excavating the mass graves of thousands of Kurdish victims of Hussein's crackdowns, forced displacements, and reprisals.
Between 1979 and Hussein's ouster, roughly half a million Kurds were picked up by Iraqi security forces and never returned, Ihsan says.
"We have been searching for missing people for a long, long time, since 1991," he says. "But we started the active searching process after the liberation of Iraq."
He believes the families of the Kurdish victims want to know the fate of their loved ones and to bring to justice those who killed them.
So Ihsan, whose ministry is located in Irbil, spends a considerable amount of the year traveling across Iraq. He and a small team of forensic experts regularly drive to areas where they believe mass graves may be located.
He says the team of nine -- a figure that includes security experts -- locates grave sites by combing through eyewitness accounts, documents, and survivors' accounts that today may already be decades old.
But trying to exhume a grave site itself can present even greater problems.
"For so many reasons," he says, locals are frequently unhelpful and uncooperative. One reason is that they do not have enough information. Another is that "they are afraid because most of them were part of that crime."
Breaking through such barriers is "very hard. We bribe some people, we share documents with some people, we stay in the deserts and some other parts of the country for three or four weeks to gather as much information as we can."
Ihsan says his team always works undercover, without revealing its connections to the Kurdish Regional Government or that it is collecting criminal evidence.
Still, the exhumation effort has made progress: the bodies of victims have been returned to their home villages in northern Iraq.
"We [have] started returning bodies to Kurdistan," Ihsan says. "We managed to get 512 bodies [of members of the Barzani clan] that had been killed by Saddam Hussein in 1983."
These are just some of the over 8,000 male members of the Barzani clan arrested in July 1983 by Saddam's security force. Seized in the northern province of Irbil, they were then transported to southern Iraq. Nothing has been heard of them since.
Cases Unopened, Wounds Unclosed
This slaughter of the Barzani clan is one of a dozen cases for which prosecutors say they have enough evidence to convict Saddam.
Another case centers on the massive forced displacement of the Kurdish population between February and September 1988 -- known as the Anfal (Arabic for "spoils") campaign -- which left tens of thousands of people dead.
Still another case focuses separately on the use of mustard and nerve gas against residents of the Kurdish town of Halabjah in August 1988, during the Anfal campaign.
Other cases include Saddam's invasion of Kuwait in 1990, the crushing of the Kurdish and Shi'ite rebellions after the 1991 Gulf War, and the killing of political activists over the course of three decades.
Returning bodies is the most painful part of his work, Ihsan says. It re-opens wounds that are decades old and may have partially healed. But he says the families want to have at lease a bone or a piece of cloth that they can bury and create a proper grave for their loved ones.
For others, the wounds have not healed. "The unknown fate [of a loved one] creates big social and economic problems for us," Ihsan says. "We have some girls who've been engaged for more than 23 years. Still they are waiting for their beloved. We have wives still waiting for their husbands. We have daughters still waiting for their fathers to return. We were sure that [the missing] had been killed but these people did not believe it. Returning the bodies to them will put an end to their sad lives [of waiting] and the pain."
So far, the team has located 284 sites of mass graves of Kurds across Iraq. With time, it hopes to exhume them all.
Ihsan says that he wants to see Hussein finally go on trial for all the cases against him. But he says that, so far, he has received no official word of whether there will be new court proceedings once the Al-Dujayl case is completed.
"We are presenting our evidence to the courts so they have it available," he says. Beyond that, it is up to the judicial authorities themselves to decide what to do.
Iraq's Kurdish Region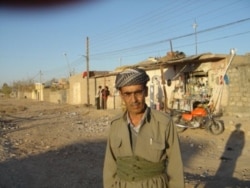 KURDISH AWAKENING: The ethnic Kurdish region in the northern part of Iraq has struggled in recent years to reestablish its cultural and political identity after decades of oppression under the regime of deposed Iraqi President Saddam Hussein. In December, RFE/RL correspondent Charles Recknagel traveled to this area and filed several reports:
Relative Peace Underscores Issue Of Kurdish Region's Future
Kurdish Culture Begins To Flourish In Kurdistan Region
Kurds Ponder How To Strengthen Autonomy After Elections