Hussein-Era Mass Grave Discovered Near Najaf
Many mass graves have been discovered in Iraq since Saddam Hussein was driven from power in 2003 (file photo) (CTK) 17 January 2006 -- Iraqi authorities have uncovered a mass grave containing the bodies of 22 people.
Security officials say the victims were probably killed during a failed Shi'ite uprising against Saddam Hussein in 1991.
The remains were uncovered near the holy Shi'ite city of Najaf, where a number of mass graves have been found since the fall of Saddam in April 2003.
(AFP, AP)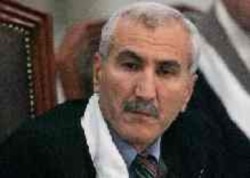 On November 11, 2005, RFE/RL's Radio Free Iraq (RFI) spoke with Iraqi Special Tribunal presiding Judge
Rizgar Muhammad Amin
about the trial of ousted Iraqi President Saddam Hussein and seven of his associates...
(more)