German Theater Cancels Mozart Opera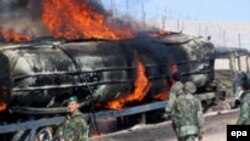 Western cartoons deemed offensive to Islam sparked off widespread rioting in February, including this protest in Afghanistan on February 8 (epa) September 26, 2006 -- A leading German opera house announced it has cancelled performances of Mozart's "Idomeneo" because of concerns it would offend Muslims.
The Deutsche Oper Berlin said the decision was taken after security officials warned that proceeding with the performances would present "incalculable security risks."
"Idomeneo" makes no reference to Islam, but director Hans Neuenfels introduced a scene to his production that depicts the decapitated heads of the Prophet Muhammad, Jesus Christ, Buddha, and Poseidon.
(dpa, AFP, AP, Reuters)