Babyn Yar Commemorations Continue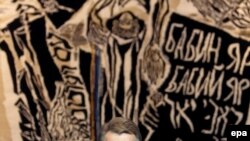 Yushchenko speaking at an event related to the Babyn Yar commemoration on September 26 in Kyiv (epa) September 27, 2006 -- Ukraine today marked the second day of ceremonies commemorating the 65th anniversary of the Babyn Yar massacre.
In September 1941, invading Nazi troops killed more than 33,000 people, most of them Jews, at the ravine near Kyiv. The executions at Babyn Yar continued, with a total of more than 100,000 people killed there over the next two years.
Ukrainian President Viktor Yushchenko was joined by Israeli President Moshe Katsav, as well as Croatian President Stipe Mesic and Montenegrin President Filip Vujanovic for a commemoration service at Babyn Yar.
Later today, Yushchenko will host a forum in Kyiv on anti-Semitism.
Delegations from more around 40 countries, including Russia and the United States, are expected to attend.
(compiled from agency reports)