The allegation is contained in a new book by the veteran U.S. journalist Bob Woodward, who claimed there was an attack every 15 minutes against U.S.-led forces in Iraq.
White House spokesman Tony Snow said nobody had tried to mislead anyone about the levels of violence, and that the number of attacks fluctuated.
"The president, contrary to the assertion, was not, in fact, painting a rose-colored picture," Snow said. "He has been saying that it's a tough war, it's a long war, it's a war that's going to outlive his presidency."
Woodward is famous for his reporting on the Watergate scandal three decades ago that played a role in compelling then-President Richard Nixon to resign.
(AP, AFP, Reuters)
Sectarian Iraq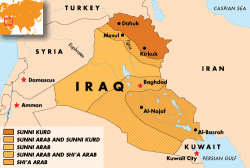 Click to enlarge the image.
SUNNI, SHI'A: Iraq is riven along sectarian lines, faults that frequently produce violent clashes and are a constant source of tension. Sectarian concerns drive much of Iraqi politics and are the main threat to the country's fragile security environment.


THE COMPLETE PICTURE: Click on the image to view RFE/RL's complete coverage of events in Iraq and that country's ongoing transition.