"State of Denial: Bush At War, Part III" is the third book about Bush's wartime presidency by investigative reporter Bob Woodward of "The Washington Post" newspaper. While the central figure of his current work is Bush, the man who takes much of the blame for the war's progress is his defense secretary, Donald Rumsfeld.
Woodward's first two books portrayed Bush as engaged on the issues and skeptical about the prospect of war in Iraq.
For example, the second book reports that in December 2002 -- three months before the U.S.-led invasion of Iraq -- then-CIA Director George Tenet presented evidence that Iraqi President Saddam Hussein had weapons of mass destruction.
"He's [Rumsfeld is] doing an enormously difficult job: fighting a war, trying to transform our military to meet the new threats of the 21st century," White House counselor Dan Bartlett said. "We recognize that he has his critics. We recognize that he's made some very difficult decisions. Some people don't like his 'bedside manner.' "
The book says Bush accepted Tenet's evidence only after the CIA director reiterated his firm conviction that the intelligence was correct.
When Is It An 'Insurgency'?
Woodward's new book depicts Bush as preoccupied less with the war itself than with public perception of it. For example, Woodward points to autumn 2003, when it was becoming clear that coalition forces, having defeated Hussein's army, were facing a growing insurgency.
At that time, according to Woodward, Bush said: "I don't want anyone in the cabinet to say it is an insurgency. I don't think we are there yet."
The book also describes Rumsfeld as indifferent about obvious U.S. blunders in the reconstruction of Iraq. It quotes General John Abizaid, the commander of all U.S. forces in the Middle East, as saying Rumsfeld lacks credibility.
It portrays Colin Powell, Bush's first secretary of state, as being shut out of major foreign-policy discussions. It says Condoleezza Rice, then Bush's national security adviser, all but ignored an urgent warning from Tenet about an impending terrorist strike in the United States -- two months before the attacks of September 11, 2001.
And the book says Bush ignored recommendations by several influential members of the administration -- as well as his own wife, Laura -- that Rumsfeld be replaced.
United They Stand
Although Woodward has portrayed the Bush administration as being divided over foreign policy, it is united in its criticism of his book and in defense of itself and Rumsfeld.
Within hours of the book's release, the White House had contested virtually every point. On September 30, the White House issued a statement citing what it called "five key myths" in Woodward's account, including efforts to dismiss Rumsfeld. And on October 1, the administration sent top aides to the morning news shows.
One was White House counselor Dan Bartlett, who is regularly called upon to explain Bush's policies publicly. On one program, Bartlett said Rumsfeld has "the full confidence of the president."
Bartlett pointed out that Bush can dismiss the secretary the moment he loses that confidence.
"He's [Rumsfeld is] doing an enormously difficult job: fighting a war, trying to transform our military to meet the new threats of the 21st century," Bartlett said. "We recognize that he has his critics. We recognize that he's made some very difficult decisions. Some people don't like his 'bedside manner.' But what President Bush looks to in Secretary Rumsfeld is to bring him the type of information he needs to make the right decisions in this war. And make no mistake about it, this has been a difficult war."
'A Lot Of Juicy Gossip'
Woodward's book took up much of the daily press briefing at the White House on October 2. Press secretary Tony Snow acknowledged that the book is bound to be a popular topic for discussion. But he took issue with the book's theme: that the president is ignoring the facts of a difficult war.
"You've got a lot of juicy gossip in the book, and people will have all the time they want to go through it," Snow said. "But the fundamental question about whether the president is -- quote -- 'in denial': flat wrong, absolutely wrong."
As for Rumsfeld, Snow said the secretary has always had Bush's confidence and that any discussions about replacing him were theoretical and back when administration officials were looking forward to Bush's second term in office.
Snow was asked why the president felt it necessary to reinforce his support of Rumsfeld if that support hasn't wavered in the past six years.
"I think what the president simply wanted to do is -- given all the press attention and everything that's been going on -- to say, 'Don, I still have faith in you and I support you,'" Snow said.
Snow conceded that Rumsfeld doesn't always get along with everyone and has been unpopular with some people at the Defense Department and elsewhere in the Bush administration.
A Soldier's Story
Meanwhile, a colleague of Woodward's at "The Washington Post," Karen DeYoung, has just published her own book about a top Bush administration official.
"Soldier: The Life Of Colin Powell" details Powell's term as secretary of state, the difficulties he faced trying to win international support for the invasion of Iraq, and his dismissal as the United States' senior diplomat.
It portrays Powell, a career soldier, as a man whose loyalty to his president kept him from being more outspoken about his true feelings about the war.

The International Coalition In Iraq
The International Coalition In Iraq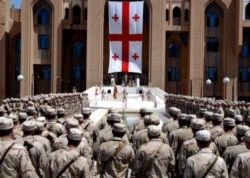 Georgian soldiers marking Georgian Independence Day in Baghdad on June 6 (epa)
COALITION MEMBERS: In addition to the United States, 28 countries are Multi-National Force-Iraq (MNF-I) contributors as of May 31, 2006: Albania, Armenia, Australia, Azerbaijan, Bosnia-Herzegovina, Bulgaria, the Czech Republic, Denmark, El Salvador, Estonia, Georgia, Italy, Japan, Kazakhstan, Latvia, Lithuania, Macedonia, Moldova, Mongolia, the Netherlands, Poland, Portugal, Romania, Singapore, Slovakia, South Korea, Ukraine, and the United Kingdom. Fiji is participating as part of the UN mission in Iraq. Hungary, Iceland, Slovenia, and Turkey are NATO countries supporting Iraqi stability operations but are not part of MNF-I.
NON-U.S. MILITARY PERSONNEL IN IRAQ: United Kingdom, 8,000 as of May 26, 2006; South Korea, 3,237 as of May 9, 2006; Italy, 2,900 as of April 27, 2006; Poland, 900 as of May 30, 2006; Australia, 900 as of March 28, 2006; Georgia, 900 as of March 24, 2006; Romania, 860 as of April 27, 2006; Japan, 600 as of May 30, 2006; Denmark, 530 as of May 23, 2006; All others, 1,140.
(Source: The Washington-based Brooking Institution's Iraq Index of June 15, 2006)


THE COMPLETE STORY: RFE/RL's complete coverage of events in Iraq and that country's ongoing transition.
RADIO FREE IRAQ: To visit the Arab-language website of RFE/RL's Radio Free Iraq, click here.