Rice met with Mas'ud Barzani, the Kurdish region's president and leader of one of the two main Kurdish parties, in the city of
Irbil.
The regional government threatened two weeks ago to break
away from Iraq because of a dispute over oil profits.
Barzani also recently banned the use of the national flag on public buildings in the region, calling tha flag a symbol of oppression under the regime of former Iraqi leader Saddam Hussein.
In other news, Iraqi Prime Minister Nuri al-Maliki has said that political parties must disband their militias -- or get out of politics.
Al-Maliki said on October 5 that he is "optimistic" a solution can be found to get militias to dissolve. Rice met the same day with al-Maliki, who is under renewed pressure to end sectarian violence.
(AFP, Reuters, AP)
Sectarian Iraq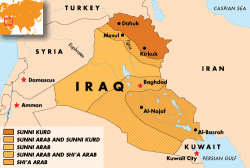 Click to enlarge the image.
SUNNI, SHI'A: Iraq is riven along sectarian lines, faults that frequently produce violent clashes and are a constant source of tension. Sectarian concerns drive much of Iraqi politics and are the main threat to the country's fragile security environment.


THE COMPLETE PICTURE: Click on the image to view RFE/RL's complete coverage of events in Iraq and that country's ongoing transition.