In the event, though, the vote has been overshadowed by the deepening crisis in Georgia's relations with Russia. Nevertheless, the elections went ahead with six political groups competing for 1,736 seats in 69 municipal councils.
Saakashvili Triumphant
Surrounded by Georgian and European Union flags, Saakashvili hailed Georgia's first-ever democratic municipal elections as a resounding vote of confidence in his government.
"I am happy to announce that the National Movement has won a very convincing victory throughout Georgia in the 2006 municipal elections," he said. "But I want to say that there was much higher participation in these local elections than in any other local elections held in recent history. Many more people took part in towns and villages all over Georgia. All records were broken."
"Objectively, I don't think there were any serious violations in the
conduct of the elections, so we the election commission consider this
to have been an election conducted to the highest standards."
The results are still being counted but it is clear that Saakashvili's party has won a resounding triumph. In Tbilisi, the ruling National Movement took 66 percent of the vote and, according to early accounts, not much less nationwide.
For Saakashvili, it's a satisfying response to the attempts of the Russian government this week to drive a wedge between his government and the Georgian people.
The chairman of the Central Election Commission, Guram Chalagashvili, said the vote passed off peacefully despite international tensions and that the "elections were conducted to quite a high standard and in complete accordance with the law and transparently. Objectively, I don't think there were any serious violations in the conduct of the elections, so we the election commission consider this to have been an election conducted to the highest standards."
Opposition Cries Foul
But opposition leaders clearly see things differently. The leader of the Labor Party, Shalva Natelashvili, whose party came in third with a disappointing 10 percent of the vote, called Saakashvili a bloody dictator and urged the international community not to accept the outcome of the vote.
Davit Usupashvili of the Republican and Conservative party bloc, which appears to have come in second overall, was more measured in his response but no less critical.
"Things were particularly bad in Gori, where armed people and representatives of the police took an active part in counting ballot papers and in the transfer of voting boxes for counting," he said. "In this respect there were serious problems in Ambrolauri, as well. In fact, it is almost impossible to name a district where there were not similar problems."
OSCE Offers Cautious Praise
But neither will have gained much comfort from the preliminary conclusions of the Organization for Security and Cooperation in Europe (OSCE) Office for Democratic Institutions and Human Rights (ODIHR). Ambassador Geert Ahrens, who headed ODIHR's limited observation mission, said there had been significant progress in the conduct of the voting and welcomed the efforts of the authorities to conduct the elections in a professional and inclusive manner.
However, he added that the turnout figures suggested more needed to be done to engage citizens in the political process. Despite Saakashvili's triumphant claims, preliminary figures suggest that turnout in the capital, Tbilisi, was around 34 percent and elsewhere in the country a little over 51 percent. Not bad certainly for a municipal election -- certainly by Western European standards where voting in local elections is traditionally very low -- but not much to boast about either.
Stronger Opposition Emerging?
A week ago, these elections looked likely to provide a good test of popular support for the reforms and manner of Saakashvili's government. In the event, the deepening dispute with Russia ensured that Saakashvili was never really put to the test. Georgians have rallied around him in the face of the Russian threat.
Nevertheless, the opposition can take heart from its performance. It is back on its feet again after the crushing defeat of 2004. There are now two, perhaps three, parties that look capable of organizing a credible nationwide challenge to the ruling party.
The Republican-Conservative alliance, in particular, has established a solid base of around 12 to 14 percent that might even have been more had it not been for the row with Russia. Come the next parliamentary elections and they might be in a position to pose a genuine challenge.
(RFE/RL's Georgian Service contributed to this report.)
Moscow And Tbilisi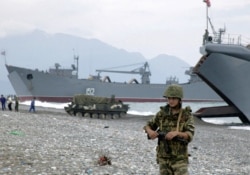 Russian military hardware being withdrawn from a Russian base in Batumi, Georgia, in August 2005 (TASS)

WHAT COMES NEXT? Although Russia is unlikely to push an aggressive military response to the current tensions with Georgia, it has a number of economic, political, and diplomatic options at its disposal. Already on October 1, Russian President Vladimir Putin summoned his inner circle to weigh Moscow's options... (more)
RELATED ARTICLES
Russia Says Georgia Sanctions Will Continue
Russia Suspends Transport, Postal Links To Georgia
EU Commissioner Urges Dialogue With Moscow
Ulterior Motives Seen Behind Escalation Of Spy Row
Georgia Turns Russians Over To OSCE
MORE: Coverage of the situation in Georgian from RFE/RL's Georgian Service and in Russian from RFE/RL's Russian Service.
ARCHIVE
RFE/RL's English-language coverage of
Georgia
and
Russia
.