OSCE Sends Election Observers To Tajikistan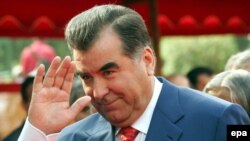 Tajik President Imomali Rakhmonov is widely expected to win another term in office (file photo) (epa) PRAGUE, October 9, 2006 (RFE/RL) -- The OSCE Office for Democratic Institutions and Human Rights (ODIHR) today opened a long-term election observation mission in Tajikistan ahead of the November 6 presidential election.
The ODIHR said that the mission includes 12 experts and 14 long-term observers who will be deployed in regions across the country.
It also said that, providing conditions are met for democratic polls, it will ask OSCE member states to send 100 short-term observers to monitor the polls.
But the ODIHR warned it may reconsider the value of a short-term mission if there is not "a credible field of candidates offering voters a genuine choice," or if the media environment does not ensure "that voters receive sufficient information in order to be able to make informed choices."
Tajik authorities on October 7 reportedly blocked five independent information websites, saying they undermine national security.
Media representatives believe the restrictions are linked to the election.

RFE/RL Central Asia Report

SUBSCRIBE For regular news and analysis on all five Central Asian countries by e-mail,
subscribe to "RFE/RL Central Asia Report."