RFE/RL:
Does a man have to suffer the worst possible [things] to become involved in an active defense of human rights?
Eli Wiesel:
No, not at all, otherwise, I wouldn't teach.... I'm not only a writer, I'm also a teacher. I don't want my students to suffer in order to become involved in human rights. I want them to become involved in human rights because other people have suffered.
RFE/RL:
But I don't see a new generation of defenders of human rights at your level.
Wiesel:
I do. They're young; I'm not. Give them a chance. I can tell you, I've been a professor for 36 years, and I'm much more optimistic. I speak to tens of thousands of students every year. Many of them, when they finish their studies, rather than go into private business, they go into NGO [nongovernmental] activities.
Whenever I go to crisis points, I find young people, young doctors who leave their patients and go to the front. They went to Cambodia, they went to Bosnia; I find them there. So I am much more optimistic than you.
RFE/RL:
And they're people who are shouting [and] screaming like you?
Wiesel:
Nobody's shouting and screaming. They're doctors; they save lives. I can shout, okay. I don't even shout -- my whispers are shouts. But I shout.
Romanian Snub?RFE/RL:
Romania today is commemorating its Holocaust Day. At the same time, we saw on the [Internet] server of the Romanian presidency that the report of your commission, the Wiesel Commission, was taken off. Do you know about that?
Wiesel:
No. Taken off?
RFE/RL:
Yes, it's no longer on the website of the presidency -- for about a month.
Wiesel:
Why?
RFE/RL:
There's no answer.
Wiesel:
I'll check into that. It's my name, after all. I'm surprised, because the [Romanian] foreign minister came to see me a few weeks ago, and he didn't mention it.
RFE/RL:
It's not there anymore.
Wiesel:
I'm shocked. But I'll check into it.
RFE/RL:
Do you have any message for Romanians today?
Wiesel:
I'll tell you, maybe you know. [Former] President [Ion] Iliescu, when I was there with the commission and so forth, they gave me a medal, a high medal, and then I learned he gave a medal of the same rank to Vadim Tudor. So I resigned from that order! I'm still waiting, clearly, for the Romanian government to remove Vadim Tudor's name from that list of prestige. And until that happens, I maintain my resignation.
RFE/RL:
Do you know that the great synagogue from Oradea was burned...?
Wiesel:
When?
RFE/RL:
During the celebration of the New Year.
Wiesel:
Something is wrong with the world media, really. I live in New York, I read "The New York Times," I occasionally watch television -- nobody has mentioned it.
RFE/RL:
There was almost nothing in the Romanian press.
Wiesel:
Sir, I promise you, I'll check into both things. I can't believe it. In Oradea? Not good.
Nuclear ProliferationRFE/RL:
To go back to politics, what is your reaction to the North Korea atomic test?
Wiesel:
I think it's very serious. It's very serious because North Korea already has nuclear weapons, and nobody knows what this man [North Korean leader Kim Jong Il] can do, because he's not one of the people that the world knows. He's a shadowy figure. Nobody knows what he thinks. The only thing we know is that he could destroy so many countries around him. Who knows where. I think the international community must take a stand on that.
RFE/RL:
Between Iran and North Korea, how do you see the future? Optimistically?
Wiesel:
I spoke about it already. The man who is at the head of Iran is crazy -- crazy with hatred. [President Mahmud] Ahmadinejad is crazy. First of all, the man who is the No. 1 Holocaust denier in the world should not be trusted, should not be accepted at the table of world leaders. He should never be invited anywhere until Iran chooses another president.
RFE/RL:
I don't think the problem is only [Ahmadinejad's denial of the Holocaust]. Does [Iran] have a right to have nuclear weapons, or not?
Wiesel:
No. Absolutely not. That's something else -- but if this man has nuclear weapons, then surely we are in trouble.
Iraq WarRFE/RL:
You supported the U.S.-led invasion of Iraq as a necessary military intervention, as a moral obligation. Three years on, how do you view that invasion?
Wiesel:
I didn't say that. (Laughs)
RFE/RL:
I think you did.
Wiesel:
No, I said I was for the destruction of the weapons of mass destruction. At that time, everybody in the world -- there wasn't a single intelligence service in the world that didn't believe that Saddam Hussein had weapons of mass destruction. The question, when I saw the president, was not about war, or the invasion -- [it was] about whether to destroy or not to destroy....
RFE/RL:
What is your view now about the invasion of Iraq?
Wiesel:
Well, now, I think it's a mess, sure. My idea then was to send in commandos. The best commandos that America has, or Britain, or even Israel. The best commandos, go in the evening, destroy the weapons of mass destruction, leave in the morning, without killing a single person. But I am not a general. That's the problem.
RFE/RL:
So you think it was a mistake, the way it was done?
Wiesel:
Look, I don't know what happened or how it happened. I cannot judge that. But I'm sure that even those who are aware of the situation would say that it could have been handled differently. I don't know how, but it could have been.
Iran And Its PresidentRFE/RL:
Now, on the subject of Iran, as you know, there are talks of sanctions on Iran because the West is suspicious that Iran is secretly developing weapons of mass destruction. But many people think that sanctions are not going to work, and Iran is not going to give up its program. Do you think, then, that the international community should act against Iran militarily?
Wiesel:
I am not there yet. I would like, first of all, to declare Mahmud Ahmadinejad, the president of Iran, as a persona non grata all over the world, because he is the No. 1 Holocaust denier in the world.
No. 2, he is the one who publicly has said he wants a member state of the United Nations to be destroyed -- the state of Israel. Now, when this happens, a member state of the United Nations wants to destroy another member of the United Nations, that nation should be expelled from the UN. So as long as he is president, Iran should be expelled from the United Nations.
RFE/RL:
But many people say that Mr. Ahmadinejad is making these comments just to gain popularity in the Arab world -- that he doesn't really mean it.
Wiesel:
(Laughs) How does one know whether he means it, really?
RFE/RL:
Would you be in favor of an attack on Iran?
Wiesel:
I am not there yet. First, I want measures to be taken against him, and against his country, for what he has done and said. Because I belong to a generation that takes threats very seriously.
On GenocideRFE/RL:
You've said of genocide that the silence of the bystander is worse than the cruelty of the oppressor.
Wiesel:
Not worse! Never worse, come on. No, simply, I think the silence of the [bystander] helps the oppressor, not the victims.
RFE/RL:
Recently, you've called on the world to act to help save lives in Darfur. Have we learned from past mistakes?
Wiesel:
No. Unfortunately not.
RFE/RL:
So we're still indifferent bystanders?
Wiesel:
Oh, yes. Yes. We did it in Rwanda. From 600,00 to 800,000 people were killed -- men, women, and children -- because we were bystanders.
RFE/RL:
So what should we do? How can we make a difference?
Wiesel:
Scream. Scream [and] shout. That's what you should try to do.
RFE/RL:
But you did shout.
Wiesel:
I shouted. Nobody listened.
RFE/RL:
Your own experience in World War II prompted you to work as a human rights defender, to speak out about injustice and human rights violations. Why did you decide not to speak until 10 years after the war?
Wiesel:
(Laughs) I didn't decide not to speak. I took a vow to wait 10 years before I wrote my first book, not to speak about that subject. Why? Because I wasn't sure that I would find the right words. Even today, I'm not sure I did. Because there are no words.
Iranian Anti-Zionism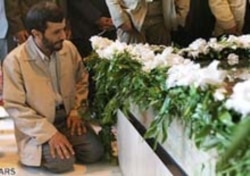 President Ahmadinejad visiting the tomb of Ayatollah Ruhollah Khomeini in October (Fars)


READ
Each year in Iran, the last Friday of Ramadan is celebrated as Qods (Jerusalem) Day, officially a day for expressing solidarity with the Palestinian people.
"I have been notifying the Muslims of the danger posed by the usurper Israel,"
Ayatollah Ruhollah Khomeini,
father of Iran's Islamic Revolution, said in an August 1979 announcement. "I ask all the Muslims of the world and the Muslim governments to join together to sever the hand of this usurper and its supporters...and, through a ceremony demonstrating the solidarity of Muslims worldwide, announce their support for the legitimate rights of the Muslim people..."
(more)
SEE ALSO:
Iranian President's Latest Comments About Israel Spark Further Condemnation
Iranian President Says Light Surrounded Him During UN Speech
INTERVIEW: On December 22, 2005, RFE/RL's Radio Farda spoke with FRED ZEIDMAN, director of the U.S. Holocaust Memorial Museum in Washington, D.C. Zeidman commented on Iranian President Mahmud Ahmadinejad's anti-Israeli comments.
LISTEN
Hear the complete interview (about nine minutes):
Real Audio Windows Media
ARCHIVE: For an archive of RFE/RL's coverage of Iran, click here.