The New York-based Committee to Protect Journalists (CPJ), which recently named Politkovskaya one of the world's top press-freedom figures of the past 25 years, has kept track of the grim statistics -- and the fact that not a single case has been solved.
The CPJ recently released a report called "Deadly News" listing the world's most murderous countries for journalists. Russia came in third -- a poor showing for what Abi Wright, CPJ's communications director, says is "nominally" a peacetime nation.

"The deadliest country for journalists that we've documented in the last 15 years is Iraq," Wright said. "Algeria is the second. But again, these are countries that were experiencing war, major conflicts. What's different about Russia is that there is no declaration of war in Russia itself, it is nominally at peace, and yet we've documented these 13 contract-style killings since Vladimir Putin took office. So that is a major indicator of the kind of press freedom climate that you find today in Russia."

Some of the journalists on the CPJ list of contract-killing victims were, like Politkovskaya, critical of government policy -- whether at a national or local level. Many others were covering corruption at the time of their deaths. And the further you get from the federal center, Wright notes, the more brazen the attacks on journalists become.

"It can be harder to hold people accountable in the provinces of many countries around the world, including Russia. My understanding of these cases in Tolyatti is that they have become almost emblematic of the climate of lawlessness and impunity that you find in Russia today," Wright said. "Investigations were not taken seriously, people were arrested and acquitted."


Igor Domnikov, 42, died in a Moscow hospital on 16 July, 2000, two months after being bludgeoned with a hammer in the entryway of his apartment building in Moscow. Domnikov covered culture and education issues for the biweekly newspaper "Novaya gazeta." Domnikov's colleagues say his killer may have mistaken him for another "Novaya gazeta" reporter who had been threatened after investigating corruption in the oil industry. The two reporters lived in the same building.
Sergei Novikov, the owner of the independent Vesna radio station in Smolensk, was shot dead as he entered his apartment building on July 26, 2000. Investigators describe his murder as a contract-style killing. Vesna had broadcast claims of corruption in the regional administration on several occasions. Novikov was 36 years old.
Iskandar Khatloni, the Moscow correspondent for RFE/RL's Tajik Service, was attacked in his apartment on September 21, 2000, by unidentified assailants who hit him in the head with an axe. Khatloni, 46, died later that night a Moscow hospital. He was writing a report on human rights abuses by Russian forces in Chechnya when he was killed.
On October 3, 2000, unknown gunmen killed Sergei Ivanov, the 30-year-old director of the television company Lada-TV, in a courtyard outside his apartment building in the Volga River city Tolyatti, an industrial center that is home to one of Russia's largest automaker, AvtoVAZ. Lada-TV was the largest independent television company in Tolyatti and was influential on the local political scene.
Adam Tepsurgayev, 24, bled to death after Chechen-speaking gunmen shot him in the thigh and groin on November 21, 2000. He had been watching television at a neighbor's house in Alkhan-Kala, a village close to Grozny. Tepsurgayev had worked as a fixer and driver for foreign journalists during the first Chechen war. Later, he had worked as a freelancer for the Reuters news agency.
Eduard Markevich, the editor and publisher of "Novyy reft," a local newspaper in the town of Reftinskiy, in Sverdlovsk Oblast, was found dead on September 18, 2001. He had been shot in the back. "Novyy reft" was often critical of local officials and Markevich, 29, had reported receiving threatening telephone calls. In 1998, two unknown assailants had broken into his apartment and beaten him up in front of his pregnant wife.
Natalya Skryl is currently the only woman on the list. A business reporter with "Nashe vremya" in the southwestern city of Rostov-na-Donu, the 29-year-old Skryl was investigating a power struggle over a metallurgical plant when she was attacked and struck multiple times with a heavy object. She died the following day, on March 9, 2002.
Two journalists from a single newspaper in the industrial city of Tolyatti were killed over the course of 18 months. On April 29, 2002, 32-year-old Valery Ivanov, the editor in chief of "Tolyattinskoye obozreniye" and a deputy in the local legislative assembly, was shot eight times in the head at point-blank range. According to a witness, his killer used a pistol with a silencer and fled the scene on foot. His close friend and successor, 31-year-old Aleksei Sidorov, was killed on October 9, 2003, after being stabbed in the chest with an ice pick. Both men were killed just outside their homes.

"Tolyattinskoye obozreniye" was known for its investigative reports on crime and government corruption. Sidorov was also known to be investigating Ivanov's murder at the time of his death. Journalists believe the deaths of both editors were meant as retaliation for the newspaper's work. A local factory welder was charged with Sidorov's murder, but was acquitted after the defendant withdrew what he said was a forced confession, and a district court ruled the prosecution's case was untenable. No one has ever been implicated in Ivanov's murder.
Dmitry Shvets, the 37-year-old deputy director-general of the TV-21 Northwestern Broadcasting independent television in the city of Murmansk. He was killed April 18, 2003, when he was shot several times outside the TV-21 office building. TV-21 journalists had reported receiving threats in connection with critical reporting on several influential politicians, including those involved in local mayoral elections.
Paul Klebnikov, the editor of the Russian edition of "Forbes" magazine, was killed July 9, 2004 outside his Moscow office, after being struck by shots fired from a passing car. Klebnikov, a 41-year-old American of Russian descent, had reported extensively on Russia's billionaire oligarchs, including Boris Berezovsky. His family has dismissed attempts to attribute the killing to Chechens acting on the orders of a separatist fighter whom Klebnikov had profiled.
Magomedzagid Varisov, a prominent journalist and political analyst with the "Novoye delo" weekly, was killed June 28, 2005 in Makhachkala, the capital of Daghestan. Assailants carrying automatic rifles opened fire on his car as he was returning home with his wife and driver; Varisov was killed immediately. Varisov had often used his publication to criticize the Daghestani opposition. "Novoye delo" had reportedly received repeated phone call threats against him.
World Press Freedom Day
NOT REALLY SO FUNNY:
The Paris-based World Association of Newspapers asked French cartoonist Michel Cambon to produce a series of cartoons on the theme of jailed journalists to mark World Press Freedom Day (May 3). Below, RFE/RL reproduces several of Cambon's cartoons.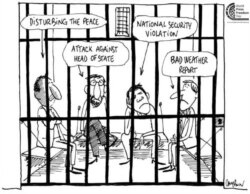 (WAN/Cambon)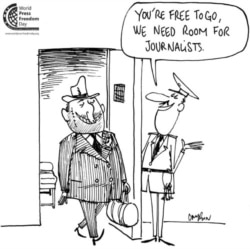 (WAN/Cambon)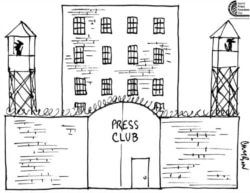 (WAN/Cambon)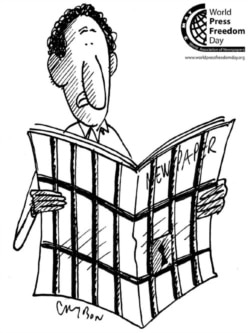 (WAN/Cambon)

RFE/RL's Press Freedom Day stories:
Iraq: Covering The Most Dangerous Beat On Earth
Afghanistan: Women In Journalism Battle Restrictions, Threats
Iran: State Maintains Tight Control Over Information
CIS: Press Freedom In Former Soviet Union Under Assault
Central Asia: Bureaucratic Obstacles Hinder Journalists
Central Asia: Governments Wary Of Independent Media
Central Asia: Journalists Still Face Harassment, Threats

ARCHIVE
To view an archive of RFE/RL's coverage of media-related stories, click here.
SUBSCRIBE
For regular news and analysis on media issues throughout RFE/RL's broadcast area by e-mail,
subscribe to "RFE/RL Media Matters."