Orhan Pamuk's novels explore Turkey's complex identity, more specifically the contradictory layers that pull Turkish society in opposing directions.
In its citation, the Swedish Academy said Pamuk, in his quest for the "melancholic soul" of his native Istanbul, had discovered new symbols for the clash and interlacing of cultures.
Whether writing historical novels or stories set in modern times, Pamuk's central theme is Turkish identity. He delves into what defines Turkishness and how that Turkishness has been shaped by history, by myths, by the confrontation between tradition and modernity, between religion and secularism, between political ideologies and ethnicities.
Pamuk is the first Turk to win the prestigious prize, which will undoubtedly be a cause of great celebration for his supporters at home.
Political Figure

But there will also be controversy. Pamuk's writing is poetic and lyrical and the Nobel committee emphasized his literary mastery, but he is also a political figure.
Pamuk's examination of Turkish history and identity has touched many raw nerves. Last year, it led him on a collision course with the authorities, when he broke a long-standing taboo.
Pamuk was put on trial for "insulting Turkishness" after telling a Swiss newspaper that Turkey was unwilling to allow an open discussion about two of the most painful episodes in recent Turkish history: the massacre of Armenians during World War I, and recent guerrilla fighting in Turkey's overwhelmingly Kurdish southeast.
Reflecting in October 2005 on the interview, Pamuk said, "all I wanted to say was that this subject is not being openly discussed in Turkey. And secondly, that we have to openly discuss what happened to the Armenians in Ottoman times -- every person living in [Turkey] must be able to talk about it."
Pamuk was unapologetic. "I defend what I said then, word for word. What happened is not just the pain the Armenians in the Ottoman Empire had to endure. It has reached a new dimension, which has partly to do with Turkey's proposed membership of the EU. This dimension means that in Turkey the freedom of thought needs to be natural, as well as human rights. Everybody needs to be able to say what they think. I am conscious of my responsibility regarding what I said. And I still defend what I said."
Legal Difficulties

Pamuk's trial caused outrage in many countries, especially in the European Union, which warned that his conviction could damage Turkey's attempts to join the bloc.
The best-selling author faced up to three years in jail.
But in January this year, the Istanbul court trying Pamuk announced that it had dropped the case against him and that there would be no further hearings.
Pamuk is not likely to escape future controversy, however.
In recent years, Pamuk's writing has become more overtly political. His last novel, "Snow," was published in 2002 and tells the story of the struggle between Islamists, Kurds, secularists and the state authorities in the town of Kars, near the border with Armenia.
He has published several articles criticizing the military's repression of the Kurdish rebellion in southeastern Turkey.
Pamuk, like the other Nobel laureates, will receive a cash prize equivalent to $1.4 million, a gold medal and a diploma during the award ceremony in Stockholm on December 10.
Examining History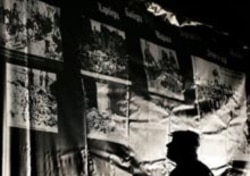 CALL IT GENOCIDE? Questions surrounding the mass killings of Armenians at the beginning of the last century continue to dominate relations between Armenia and Turkey. In April, Ankara proposed conducting a joint Armenian-Turkish investigation into the mass killings and deportations of Armenians during World War I.
Turkish leaders suggested that the two countries set up a joint commission of historians to determine whether the massacres carried out between 1915 and 1917 constituted genocide. Armenia, however, insisted it would continue to seek international recognition and condemnation of what it says was a deliberate attempt at exterminating an entire people....(more)
See also:
Armenians Mark 90th Anniversary Of Start Of Massacres
Armenia: Tragedy Remains On Europe's Political Map
ARCHIVE: For a complete archive of RFE/RL's coverage of Armenia, click here.