The announcement was made today by the Ministry of State for National Dialogue.
The conference, which was meant to be a forum for representatives of Iraq's different sects and ethnicities to meet, was scheduled for October 21.
It had already been postponed several times amid raging sectarian and insurgent violence in Iraq.
(AP)

Sectarian Iraq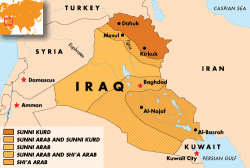 Click to enlarge the image.
SUNNI, SHI'A: Iraq is riven along sectarian lines, faults that frequently produce violent clashes and are a constant source of tension. Sectarian concerns drive much of Iraqi politics and are the main threat to the country's fragile security environment.


THE COMPLETE PICTURE: Click on the image to view RFE/RL's complete coverage of events in Iraq and that country's ongoing transition.