Russia Tightens Checks On Ukrainian Alcohol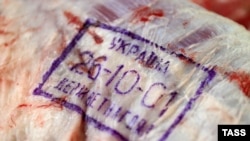 Ukrainian meat was in February the subject of tightened Russian health regulations (ITAR-TASS) October 16, 2006 -- Russian health authorities are set to carry out checks on alcoholic beverages from Ukraine in a move that experts say could have a debilitating impact on Ukrainian drink firms.
The Russian consumer protection agency Rospotrebnadzor said on October 16 that the checks, which will be conducted on everything from raw materials to Ukrainian production facilities, are intended to ensure that all imports meet Russian health regulations.
Media reports said it would also be harder to obtain export licenses to Russia.
(AFP)

RFE/RL Belarus, Ukraine, And Moldova Report

SUBSCRIBE For weekly news and analysis on Belarus, Ukraine, and Moldova by e-mail,
subscribe to "RFE/RL Belarus, Ukraine, And Moldova Report."