Lacking the protection afforded Iraqi officials and their personnel who work in the heavily fortified Green Zone, Iraqi journalists move about among the general population, and as a result are much more at risk. The Paris-based Reporters Without Borders (RSF) announced on October 17 that 48 Iraqi journalists and media assistants have so far been killed this year, making it the deadliest year for the Iraqi press since the start of the war in March 2003.
"Iraqi journalists get no protection and have to work with the population, which makes them more vulnerable," RSF said. "We reiterate our call to the Iraqi authorities to finally guarantee a safer work environment for all media personnel."
The Coalition to Protect Journalists (CPJ), which keeps a statistical analysis of journalists killed in Iraq since the beginning of the Iraq war, has so far recorded 85 journalists killed in the line of duty, with the overwhelming majority of them, 64, Iraqi. CPJ considers a journalist killed in duty if he/she dies as a result of hostile action.
In addition, CPJ gave the death toll of media-support workers, such as interpreters, drivers, and guards, at 35, and all of them but one were Iraqis. The organization also noted in a press release on October 15 that the combined death toll makes this the deadliest conflict for journalists and media support workers in 25 years.
In October alone, 14 Iraqi journalists and media personnel were killed, prompting UN Educational, Scientific and Cultural Organization (UNESCO) Director-General Koichiro Matsuura to deplore the "ferocious and systematic attacks" on journalists and warn that the attacks
undermine attempts to establish democracy
. UNESCO is the UN organization entrusted with defending freedom of the press.
"The international community and the authorities in Iraq must take determined action to support the media in this appalling struggle over freedom of expression, a basic human right that is at the cornerstone to all human rights" Matsuura said, the UN News Service reported on October 16.
Sectarian Violence Blamed For Many Deaths
After the fall of the Hussein regime, the Iraqi media experienced unprecedented freedoms and growth, and dozens of newspapers, websites, blogs, and satellite and terrestrial television stations sprang forth.
However, Iraqi journalists have complained that the press has become increasingly politicized, with many newspapers and television stations owned by political and religious groups being used to promote their individual agendas. This politicization of the media has sometimes led to reprisal attacks against journalists.
Lynn Tehini, RSF's Maghreb and Middle East desk officer, indicated that sectarian violence was responsible for most of the killings of Iraqi journalists. She said that as media outlets begin to take sides on contentious issues such as federalism, journalists find themselves at risk of being killed by those who take issue with their position.
"If a Sunni journalist is killed because his newspaper says something others do not like, there will be a killing of a Shi'ite journalist to take revenge...and so on," Tehini said, aljazeera.net reported on October 9.
On October 12, armed gunmen
stormed the fledgling Al-Sha'biyah satellite channel
and killed 11 employees. Although the owner of the station, Abd al-Rahim Nasrallah al-Shammari, is the leader of the secular-oriented Justice and Democratic Development Party, international media reported that some of the gunmen were wearing police uniforms, raising suspicions that the killings may have been a carried out by militia groups or death squads.
Nir Rosen, the author of "In the Belly of the Green Bird: the Triumph of Martyrs in Iraq," says that there is a perception that Iraqi journalists are working as spies for armed groups or political parties. "If you are working for Iraqi outlets, you can get killed for sectarian reasons." aljazeera.net quoted Rosen as saying on October 9.
Press Freedoms Under Siege
While violence continues to take a toll on Iraqi journalists, actions by the Iraqi government are seen as trying to stifle press freedoms. Parliament urged Prime Minister Nuri al-Maliki on October 16 to shut down the Al- Sharqiyah news channel and "Al-Zaman" newspaper after what it described as their negative coverage of a recent draft law the parliament passed on turning Iraq into a federal state. The outlets warned that the law could lead to the disintegration of Iraq on ethnic and sectarian grounds, "Al-Zaman reported on October 17. Sa'd al-Bazazz, a Sunni Arab and the head of the media group that owns Al-Sharqiyah and "Al-Zaman," said that those seeking to censor the two outlets wanted to "muzzle the mouth of the free press" in Iraq.
A similar incident occurred in September when the government
shut down the offices of Al-Arabiyah
for one month after the news channel had adopted what the government called "a policy that incites sectarianism and promotes violence."
These troubling incidents could be seen as the beginnings of an oppressive regime. Some journalists, media watchdogs, and academics warn that continued threats and interference by the government echo similar conditions that affected the Iraqi press during the Hussein regime when the media was essentially state-run and did not deviate from the government's stance.
Dr. Juan Cole, professor of modern Middle East and South Asian history at the University of Michigan, warned that the resolution by the Iraqi parliament could heighten sectarian tensions and that it was perceived by Sunnis as a power play and intimidation tactics by the majority Shi'a. "I see the resolution as an extension of a virtual doctrine of the tyranny of the Shi'ite majority, and aimed at silencing a major Sunni Arab newspaper," Cole was quoted as saying by agoravox.com on October 17.
Press Under Assault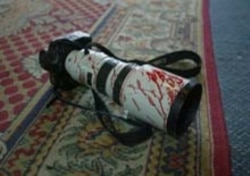 (AFP)
BREAKING THE NEWS: Press freedom is under assault in virtually all of the countries of the former Soviet Union. Independent media confront enormous challenges in providing citizens with the independent information that can help advance democratic reforms. On May 2, RFE/RL's Washington office hosted a roundtable briefing that gave an overview of media developments in the CIS and discussed the connections between press freedom and future democratization. The briefing featured Freedom House Director of Studies CHRISTOPHER WALKER, American University Associate Research Professor ROBERT ORTTUNG, and RFE/RL Central Asia analyst DANIEL KIMMAGE.
LISTEN
Listen to the entire briefing (about 90 minutes):
Real Audio Windows Media
RFE/RL's Press Freedom Day stories:
Iraq: Covering The Most Dangerous Beat On Earth
Afghanistan: Women In Journalism Battle Restrictions, Threats
Iran: State Maintains Tight Control Over Information
CIS: Press Freedom In Former Soviet Union Under Assault
Central Asia: Bureaucratic Obstacles Hinder Journalists
Central Asia: Governments Wary Of Independent Media
Central Asia: Journalists Still Face Harassment, Threats

THE COMPLETE STORY: To view an archive of RFE/RL's coverage of media-related stories, click here.
SUBSCRIBE
For regular news and analysis on media issues throughout RFE/RL's broadcast area by e-mail,
subscribe to "RFE/RL Media Matters."