Speaking today to journalists in the Georgian capital, Tbilisi, U.S. Assistant Secretary of State Daniel Fried said, "I think economic boycotts and bans and particularly pressure on people based on their ethnicity is not what we want to see anywhere, particularly not in this part of the world in the 21st century."
Fried said he hoped the two neighbors would make efforts to improve their relations.
Russia has deported hundreds of Georgian migrants, claiming they were staying in the country illegally, in retaliation for Georgia's brief detention of four alleged Russian spies last month.
Moscow also has imposed a transport and postal blockade on its southern neighbor.
Fried also said Washington will not recognize the independence of Georgia's breakaway republics of Abkhazia and South Ossetia.
The comment came after Abkhazia's parliament sent an appeal to the Russian president and parliament asking for recognition as an independent state.
(with AP)
Moscow And Tbilisi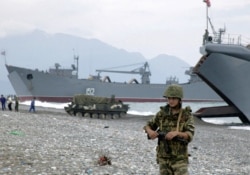 Russian military hardware being withdrawn from a Russian base in Batumi, Georgia, in August 2005 (TASS)

WHAT COMES NEXT? Although Russia is unlikely to push an aggressive military response to the current tensions with Georgia, it has a number of economic, political, and diplomatic options at its disposal. Already on October 1, Russian President Vladimir Putin summoned his inner circle to weigh Moscow's options... (more)
RELATED ARTICLES
Russia Says Georgia Sanctions Will Continue
Russia Suspends Transport, Postal Links To Georgia
EU Commissioner Urges Dialogue With Moscow
Ulterior Motives Seen Behind Escalation Of Spy Row
Georgia Turns Russians Over To OSCE
MORE: Coverage of the situation in Georgian from RFE/RL's Georgian Service and in Russian from RFE/RL's Russian Service.
ARCHIVE
RFE/RL's English-language coverage of
Georgia
and
Russia
.