U.S. Envoy Dismayed By Kocharian Snub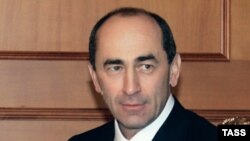 Armenian President Robert Kocharian (file photo) (ITAR-TASS) YEREVAN, October 19, 2006 (RFE/RL) -- The U.S. ambassador to the OSCE has expressed dismay at the Armenian president's refusal to meet her on her first visit to Armenia.
Julie Finley said Armenian President Robert Kocharian had refused to meet her on October 18 on the grounds that he was too busy.
Finley did, however, receive assurances from other Armenian officials that next year's parliamentary elections will be free and fair.