Our Ukraine Ministers Leave Government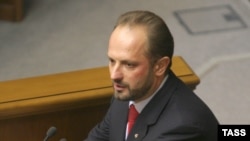 Roman Bezsmertnyy, leader of the Our Ukraine bloc's parliamentary faction, addresses the Verkhovna Rada on October 17 (ITAR-TASS) KYIV, October 19, 2006, (RFE/RL) -- Five ministers from the Our Ukraine faction today resigned from their posts in the Ukrainian cabinet.
The leader of the Our Ukraine faction, Roman Bezsmertnyy, said the decision was made because it was clear that other parties in the government would not keep to the terms of the agreement that in early August ended months of political deadlock.
He cited a general change in the direction of foreign and domestic policy, specifically highlighting "a shift to an absurd economic system."
The ministers had held the portfolios of justice, culture, internal affairs, families and sport, and health.
Our Ukraine's departure from government removes the most pro-Western party in government.
However, pro-Western politicians continue to hold the foreign and defense portfolios. Under the amended Ukrainian Constitution, the president personally appoints the foreign and defense ministers.
The resignations came as the EU's foreign-policy chief, Javier Solana, was in Ukraine to discuss relations between Ukraine and the EU. Yushchenko has urged the EU to hold out the prospect of eventual membership to Ukraine.
Prime Minister Viktor Yanukovych, who views are seen as pro-Russia, emerged from his meeting with Solana to say that Ukraine is interested in "stable, transparent, and predictable relations" with both the European Union and Russia.
RFE/RL Belarus, Ukraine, And Moldova Report

SUBSCRIBE For weekly news and analysis on Belarus, Ukraine, and Moldova by e-mail,
subscribe to "RFE/RL Belarus, Ukraine, And Moldova Report."