Also present was Politkovskaya's 28-year-old son, Ilya Politkovsky.
After the meeting, which took place at Rice's Moscow hotel, Politkovsky said he appreciated Rice's comments about his mother's courage and the tragedy of her loss.
Earlier today, Rice called Politkovskaya a "well-respected journalist" and told reporters traveling with her that the fate of reporters in Russia is a "major concern."
Rice is expected to raise the case when she meets with Russian President Vladimir Putin.
Putin called Politkovskaya's murder a "disgustingly cruel crime," but said her "ability to influence political life in Russia was extremely insignificant."
Politkovskaya investigated Russian corruption and human rights abuses, particularly in Chechnya.
No arrests have been made in her murder, a suspected contract killing.
Politkovskaya is the 13th Russian journalist believed to have been slain by hired killers since Putin came to power in 2000.
(Reuters, AFP)
Remembering Anna Politkovskaya
Remembering Anna Politkovskaya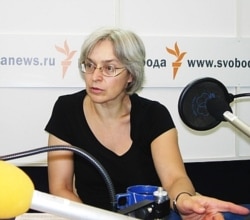 Anna Politkovskaya at RFE/RL in July 2006 (RFE/RL)
A BRAVE VOICE SILENCED. Prominent Russian journalist Anna Politkovskaya was killed on October 7 in her Moscow apartment building. An outspoken critic of the Kremlin, she was best-known for her reporting on the conflict in Chechnya. Former Soviet President Gorbachev called her slaying "a true political homicide, a vendetta."
Chechens Mourn Politkovskaya As 'Last Hope'
Politkovskaya Investigating Chechen Torture At Time Of Death
Two Journalists Die In Contract Killings A Year
SUBSCRIBE
For regular news and analysis on media issues throughout RFE/RL's broadcast area by e-mail,
subscribe to "RFE/RL Media Matters."