Iran Suspends Publication Of New Moderate Daily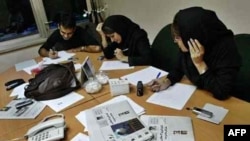 Editorial staff at "Ruzgar" working on the paper's first issue, on October 16 (AFP) October 23, 2006 (RFE/RL) -- Iran's state media watchdog has suspended the publication of a new moderate daily, "Ruzgar."
The Press Supervisory Committee says "Ruzgar" had received warnings that new media outlets cannot be similar in content to a suspended publication.
Most of "Ruzgar's" staffers are former employees of the leading reformist daily "Sharq," which was shut down in September.
"Ruzgar" was first published on October 16. It was pulled from newsstands three days later after the Culture Ministry said it was prohibited from covering political news.
"Ruzgar" appeared again on October 21, this time without political news or analysis.
Iran's judiciary has closed more than 100 reformist and moderate publications in recent years.