A panel at the Prague Energy Forum, organized by RFE/RL in partnership with the Warsaw-based Institute for Eastern Studies in Prague on October 23-24, was set to discuss oil and gas issues during the present Iranian crisis, as seen from the perspectives of the United States, Europe, Russia, China and Azerbaijan. But energy issues were soon forgotten as the debate centered on exactly why Iran is so steadfastly defending its nuclear-power-generation program.

Western Fears

Many in the West fear that Iran is secretly trying to develop nuclear weapons. Concerned governments are working through the United Nations Security Council to impose sanctions on Iran unless it gives up its uranium-enrichment program -- something Tehran has vowed never to do.
"I think the current hostility between Iran and the U.S. is beyond ideological matters or history or background," Iranian academic Kayhan Barzegar said. "It is because Iran feels that it's a great power in the region, and Iran would like to express itself. And it is, therefore, a struggle for role and influence."

Panelist Matthew Boland, the spokesman for the U.S. representation at the International Atomic Energy Agency (IAEA), summarized the course of the dispute with Iran. Boland gave "chapter and verse" on what he said were Iran's deceit and secrecy over its nuclear program for over 18 years.
Participant Ivo Samson, of the Slovak Foreign Policy Association, joined in the debate. Samson referred to the European Union's persistent but fruitless attempts to negotiate the nuclear issue with Tehran, rather than to threaten it with sanctions.

Samson styled the EU policy an exercise in the projection of "soft power." He said that under the soft-power scenario, the opposing sides were meant to finally arrive at a consensus. But he said that had not worked with Iran. Samson said the EU effort was being seen simply as a failure, which undercut European prestige in a mission that was meant to establish the credentials of the EU as an emerging world power.

Grappling For Influence

One of the panelists was Kayhan Barzegar, an Iranian professor of international relations at Islamic Azad University in Tehran. Barzegar noted Iranian cited tensions with Washington in particular.

"I think the current hostility between Iran and the U.S. is beyond ideological matters or history or background," Barzegar said. "It is because Iran feels that it's a great power in the region, and Iran would like to express itself. And it is, therefore, a struggle for role and influence."


Barzegar said that for any country to go to war with it over the nuclear program or other differences would benefit no one. He was pressed by members of the audience to explain why Iran clings so fiercely to the nuclear program if it is peaceful.
"Iran accepted negotiations with the U.S. in Iraq, because Iran had the upper hand," Barzegar said. "[But] if Iranians are isolated, they won't accept going to negotiations, because they would think that they would lose in any negotiations."
The international community has offered a package of incentives to Iran that guarantee the benefits of peaceful nuclear power in exchange for Tehran abandoning uranium enrichment on its soil. Enrichment can serve as a step toward weapons development.
Iranians 'Cannot Be Ignored'
Barzegar countered that the nuclear policy stems from the roots of Iranian culture planted in the region for thousands of years. He said Iranians have their own ideas of what constitutes advancement and progress, and want to express themselves; they seek recognition.
"On the issue of the nuclear program, it is wrong, in my belief, to consider it just a governmental policy. It is not," Barzegar said. "It comes from the Iranian will, it comes from Iranian geopolitics, it comes from Iranian history and culture. Because Iranians have been present in this region for many centuries, they cannot just simply be ignored. Therefore, any [attempt] to isolate Iran would have negative results."
Those comments drew an appeal from another panelist, Walter Posch of the EU Institute for Security Studies. Posch sought an explanation of what Iran really means by "recognition." He said the EU negotiators have never received an answer from the Iranian side to that key question.
Posch elaborated on that idea later in remarks to RFE/RL: "The EU denies Iran nothing; the EU respects Iran in a certain way. But what then does this point -- which is obviously so dear to the Iranians, to be treated as a power -- mean? What does it mean in the Persian Gulf, What does it mean, say, for Afghanistan? We don't know yet."
Posch said the international community has lost confidence in Iran because of this opacity in its aims.
"You cannot ignore Iran; [there can be] no security structure in the region without Iran," Posch said. "That's what we agree on, but one does not get an answer on precisely what it would mean if the Iranians received power status, and what they are imagining by power, benign power. That's an open question, and we have still not received a satisfactory answer."
Returning to the original theme of the debate, panel chairman Flynt Leverett noted that Iran has the second-largest oil reserves after Saudi Arabia, and the second-largest gas reserves after Russia.
But he said that Iranian production is very low, given that Iran is one of the few countries in the world with potential to greatly increase its production in both commodities. And that, said Leverett, is a matter that concerns the entire energy-hungry world.
(Margot Buff contributed to this piece.)
Prague Energy Forum, October 23-24
Prague Energy Forum, October 23-24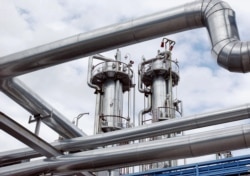 An oil refinery in Western Siberia (TASS)

STABILITY AND SECURITY: On October 23-24, RFE/RL and the Warsaw-based Economic forum cosponsored the Prague Energy Forum at RFE/RL's Prague broadcasting center. The Energy Forum brought together nearly 100 experts and policymakers from Europe, Central Asia, and the Middle East to discuss key issues of energy supply and security in the years to come.
HIGHLIGHTS: RFE/RL presents some of the key presentations from the Energy Forum and interviews with some participants:
Czech Premier Urges Reduced Energy Dependence On Russia
Interview: Nature A Bigger Threat To Security Than Terrorism
Russia Can Boost Security Through Transparency
Interview: Russian Expert Addresses Europe's Security Concerns
U.S. Official Outlines Concerns About Iran's Nuclear Program
Iranian, Western Experts Spar Over Tehran's Nuclear Ambitions
Experts Ponder Future 'Gas Wars'
Former U.S. Ambassador Says Kyiv Can Cope With Gas Price Rise
Interview: Tbilisi Bent On Energy Independence


MORE: Click on the image to see the conference program, participant list, and other materials.