NATO Radio In Bosnia To Close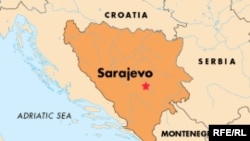 (RFE/RL) October 25, 2006 -- A popular radio station set up in Bosnia by NATO-led peacekeepers after the 1992-95 war is to close in the next few days.
The peacekeepers established Radio Mir (Peace) shortly after the end of the war with the aim of using neutral broadcasting to help Bosnia overcome deep ethnic divisions.
Mir, which broadcast music and news, became popular among Bosnian youth of all ethnicities.
(AFP, AP)