RFE/RL: Freedom House in September issued its annual "Worst Of The Worst" report, a list of the world's most dictatorial nations. What has been the trend with regard to human rights in the former Soviet Union in past years?
Christopher Walker: All in all, in recent years the trend has been very negative. This has been in part, I think, a response to developments in countries such as Ukraine and Georgia, but we've seen what one could describe as an intensification of control of both state and nonstate institutions in most of the countries of the former Soviet Union. So, both in the evaluation you cite, but also in our annual survey of press freedom around the world. This has also been notable for its decline, and for the authorities' particular focus on the media sector, which has been very negative and troubling.
The effort to control national broadcast media started already three or four years ago, such that today in Russia there really is no independent voice that reaches the wider country at all.
RFE/RL: You also have a series of other reports, including "Freedom In The World," "Nations In Transit," and "Freedom Of The Press." What is the methodology for compiling such reports?
Walker: It's a little bit different between the different projects, but as a basic proposition, we use expert analysts who do the evaluations for these countries. We also use expert review committees, which also function as peer review for what we produce. This review is done by evaluating the narratives and the material we produce; we also gather the experts together in person to do the reviews which are then released once a year. This is true of the global surveys; the "Freedom In The World" findings will be released in January this year, and "Freedom Of The Press" is usually released on World Press Freedom Day, at the end of April or early May.
RFE/RL: Last week, Freedom House released a statement condemning Russia for cracking down on human rights organizations and activists drawing attention to abuses in Chechnya. This followed the murder of investigative journalist Anna Politkovskaya on October 7. Is this a sign that freedom of speech is declining in Russia?
Walker: I don't think there's any question about it. These are really the most recent episodes in what has been a systematic and ongoing effort to control the media in Russia. The effort to control national broadcast media started already three or four years ago, such that today in Russia there really is no independent voice that reaches the wider country at all. The Russian authorities also set their sights last year on REN-TV, just to kind of complete the effort on the broadcast side.
What they've done recently which is particularly troubling is they've taken a closer look at the print media, and there have been some ownership takeovers in just the last few months which are very troubling, the most recent of which was "Kommersant." One can presume that this is being done in advance of the 2007-08 elections, and it really is bad news for the independent media in the country.
The murder of Anna Politkovskaya is really a brutal and tragic part of this larger effort to control the media, which almost seems to have spun out of control. There really is not a meaningful piece of the information sector that is able to talk about political issues in a consequential way, and this is a very serious and negative development in Russia.
RFE/RL: This statement also called on the United States to be more vocal in condemning actions by the Russian government restricting freedom of speech and association. Do you feel that the United States and other Western countries are being too soft on Russia?
Walker: I think the intensification of autocratic politics and repression in Russia really deserves consistent and vocal responses from the democratic community, including North America, the European Union, and beyond. Silence could be interpreted as acceptance or acquiescence, and therefore it's critical to keep a vocal and consistent voice on these issues.
RFE/RL: Do you think Western criticism has the power to improve the situation in Russia?
Walker: It's a very difficult question today. I think that one of the dimensions of contemporary Russia, and this may apply to some other countries, is that the energy wealth they have in some ways provides them with a cushion, in a number of respects. This cushion has relevance both for their ability to pay less attention to outside actors who have less leverage on Russia, generally speaking, and it also provides a cushion for them internally to find new and innovative ways to co-opt and repress. And this is a real problem. It's a multifaceted challenge which has emerged with the spike in oil prices, and it's tough to gauge. But that said, it doesn't obviate the need for all of the democratic community to stay very focused and vocal on these issues. That should happen irrespective of some of these other variables.
Prague Energy Forum, October 23-24
Prague Energy Forum, October 23-24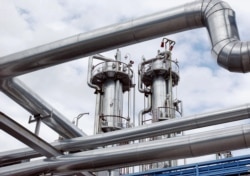 An oil refinery in Western Siberia (TASS)

STABILITY AND SECURITY: On October 23-24, RFE/RL and the Warsaw-based Economic forum cosponsored the Prague Energy Forum at RFE/RL's Prague broadcasting center. The Energy Forum brought together nearly 100 experts and policymakers from Europe, Central Asia, and the Middle East to discuss key issues of energy supply and security in the years to come.
HIGHLIGHTS: RFE/RL presents some of the key presentations from the Energy Forum and interviews with some participants:
Czech Premier Urges Reduced Energy Dependence On Russia
Interview: Nature A Bigger Threat To Security Than Terrorism
Russia Can Boost Security Through Transparency
Interview: Russian Expert Addresses Europe's Security Concerns
U.S. Official Outlines Concerns About Iran's Nuclear Program
Iranian, Western Experts Spar Over Tehran's Nuclear Ambitions
Experts Ponder Future 'Gas Wars'
Former U.S. Ambassador Says Kyiv Can Cope With Gas Price Rise
Interview: Tbilisi Bent On Energy Independence


MORE: Click on the image to see the conference program, participant list, and other materials.