On October 23, 2002, Chechen separatist militants seized the Dubrovka theater with some 900 people inside, during a performance of the popular musical "Nord-Ost," and demanded the withdrawal of Russian forces from Chechnya.
The hostage crisis ended three days later, when Russian special forces released a knockout gas and stormed the theater. At least 129 civilians and 42 militants were killed.
Friends and relatives gathered outside the theater today, observed a minute of silence, and lit candles for the victims.
Tatyana Karpova, co-director of an NGO dedicated to supporting the victims' families, said slain journalist Anna Politkovskaya, who tried to negotiate with the militants at Dubrovka, would be honored as a victim of the hostage-taking crisis.
Politkovskaya, an outspoken critic of Russian policies in Chechnya, was killed in Moscow on October 7.
(RIA Novosti, ITAR-TASS)
Chechen Female Suicide Bombers
Chechen Female Suicide Bombers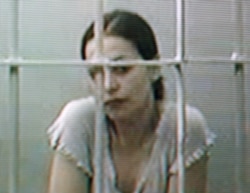 Zarema Muzhikhoyeva, who was arrested in July 2003 while attempting to explode a suicide bomb, in a Moscow court in August 2004 (TASS)
RADICALIZED WOMEN: In October 2002, 42 Chechen militants seized hundreds of hostages in a Moscow theater. Nineteen of the hostage-takers were women, marking the first time women had participated in a mission of this type on this scale. However, Chechen women have been carrying out suicide and other attacks since at least 2000.
September 1-3, 2004: More than 30 Chechen terrorists seize more than 1,000 hostages at a school in Beslan, North Ossetia. According to reports, two to four of the terrorists were women.
August 31, 2004: Roza Nagayeva , the sister of Amanat Nagayeva (see above), blows herself up outside a Moscow metro station, killing 10.
August 24, 2004: Two Chechen women, Amanat Nagayeva and Satisita Dzhbirkhanova, detonate explosives on two Russian commercial airliners nearly simultaneously, killing a total of 90 people.
February 6, 2004: An unidentified woman kills more than 40 people in a suicide bomb attack in the Moscow metro.
December 9, 2003: An unidentified woman blows herself and six others near a Moscow hotel.
December 5, 2003: Four suicide bombers -- reportedly three women and a man -- blow up a commuter train in southern Russia, killing at least 44 people.
July 27, 2003: An unidentified woman blows herself and a female civilian up at a security checkpoint in Grozny.
July 10, 2003: Zarema Muzhikhoyeva is detained while attempting to explode a bomb near a downtown Moscow hotel. A police sapper is later killed trying to disable the bomb.
July 5, 2003: Two female suicide bombers -- Zulikhan Elikhadzhiyeva and Maryam Sharipova -- kill 14 at Moscow rock concert.
June 5, 2003: An unidentified female suicide bomber blows up a bus in Mozdok, North Ossetia, killing at least 18.
May 14, 2003: One or two female suicide bombers kill at least 16 at the Chechen town of Iliskhan-Yurt. Russian authorities believe the attack was an attempt to assassinate pro-Moscow Chechen leader Akhmed-hadji Kadyrov.
May 12, 2003: Two or three suicide bombers explode a truck at a government complex in Znamenskoye, Chechnya, killing at least 60 people. According to some reports, the truck was driven by two unidentified women.
October 23-26, 2002: Nineteen of the 41 militants who seized hostages at a Moscow theater were women. All the terrorists died when special forces stormed the building.
November 29, 2001: Elza Gazuyeva detonates a bomb, killing herself and a Russian military officer in Urus-Martan. Gazuyeva blamed the officer for ordering the killing of her husband.
June 7, 2000: In the Chechen town of Alkhan-Yurt, Khava Barayeva -- a woman related to two Chechen field commanders -- detonates a truck bomb. The Russian military says two soldiers were killed.
CHRONOLOGY
An annotated timeline of
the Chechnya conflict
. An annotated timeline of
major terrorist incidents
related to the Chechnya conflict.


RFE/RL's complete coverage of Russia's war-torn Republic of Chechnya.