Russian Officials To Face Suit Over Theater Hostage Incident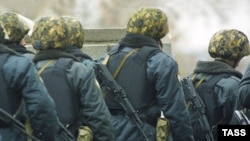 Russian special forces troops outside the Dubrovka theater on October 26, 2002 (ITAR-TASS) October 23, 2006 - Relatives of victims who died in the hostage siege at Moscow's Dubrovka theater announced today, the fourth anniversary of the crisis, that they plan to sue officials for negligence.
At least 129 hostages and 42 militants died during a bungled rescue bid.
Speaking ahead of ceremonies to commemorate the seizure of the theater, the cochair of a group of former hostages, Tatyana Karpova, said she has proof that, among other alleged errors, officials did not provide proper medical care to freed captives.
The Prosecutors General's office said today that the investigation was slated to last until November 11 and could be extended to February 19.
The militants took about 900 people hostage when they seized the theater in mid-performance.
The militants demanded that Russia end the Chechen war.
Three days later, special forces pumped a narcotic gas into the theater to knock out the hostage takers. Nearly all of the victims died from the effects of the gas.
(AP, ITAR-TASS)


An archive of RFE/RL's extensive coverage of terrorism in Russia.
CHRONOLOGY
Timeline
of major terrorist incidents in Russia since 1995.