Argentinian chief prosecutor Alberto Nisman alleged at a news conference on October 25 that while the bombing was carried out by the Lebanese Hizballah, the decision to attack the Jewish center was made in Iran.

"We have proven that the decision for the July 18, 1994, attack against AMIA that caused 85 deaths and wounded at least 151 was a decision taken by high-ranking authorities of Iran's government at that time," Nisman said. "These authorities ordered the Lebanese Shi'ite organization Hizballah to carry out this attack. It is known that this organization [Hizballah] is, from all points of view, a sub-organization of the regime in Tehran."

Alleged Official Involvement

Judge Nisman and a fellow prosecutor, Marcelo Martinez Burgos, also used the spotlight to call for the arrest of former President Hashemi-Rafsanjani. Hashemi-Rafsanjani served a seven-year term as president (1989-97) and remains influential as head of Iran's powerful Expediency Council.

That decision must be made by an Argentinian federal judge.

Prosecutors also asked the judge to detain other senior Iranians, including former Intelligence Minister Ali Fallahian and ex-Foreign Minister Ali-Akbar Velayati.
"We have proven that the decision for the July 18, 1994, attack against AMIA that caused 85 deaths and wounded at least 151 was a decision taken by high-ranking authorities of Iran's government at that time."
They are also seeking two former commanders of Iran's Revolutionary Guard Corps (IRGC), two former Iranian diplomats, and a former Hizballah security chief for their alleged roles in the killings.

Nuclear Motive?

In the worst terrorist attack ever on Argentinian soil, a vehicle loaded with ammonium nitrate exploded near the Jewish cultural center in Buenos Aires on July 18, 1994. The detonation reduced the seven-story building to rubble.

Local Jewish groups and some officials have long accused Iran of organizing the attack. There has been much speculation over Iranians' possible motives for targeting the center.

Nisman on October 25 linked the bombing to Argentina's decision not to provide Iran with nuclear technology.

"We can also prove and expose the motive of the attack on Argentina, and more precisely on AMIA. There were, in fact, a series of events that led to the carrying out of the attack," Nisman said. "There is a pivotal motivating factor -- a factor we explain in the report -- and that was Argentina's decision to cancel the contracts for providing nuclear technology and arms to the Islamic Republic of Iran. First, the contract was suspended, and then it was canceled."

Official Silence
Iran has not responded to the Argentinian prosecutors' charges, but Iranian officials have in the past vehemently denied any role in the attack.

Neither have Hizballah representatives addressed the allegations.

Prosecutor Nisman said investigators think a suspected Hizballah member drove the van that exploded outside the Jewish facility. Hizbollah reportedly said that suspect, Ibrahim Hussein Berro, has since died in southern Lebanon.

The investigation into the bombing has been fraught with allegations of incompetence and corruption. There has been little hard evidence, and no one has ever been convicted for any role in the attack.

These new charges stem from a special prosecutors' unit assigned to solve the 12-year-old case.

The AMIA attack followed a 1992 bombing that destroyed the Israeli Embassy in Buenos Aires and killed 29 people. That case remains unsolved.

Argentina's 300,000-strong Jewish community is South America's largest. Family and friends of the AMIA bombing's victims have urged authorities to take any and all possible actions -- including diplomatic moves or international captures -- to apprehend the perpetrators.

It is now up to the Argentinian judge overseeing the investigation to determine whether international arrest warrants should be issued for the former Iranian and Hizballah officials.
Iran, Syria, And Hizballah
Iran, Syria, And Hizballah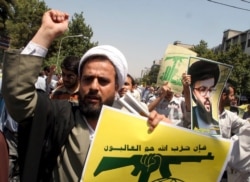 Iranians demonstrating in support of Hizballah in Tehran on July 17 (epa)

'FOR THE SAKE OF LEBANON': The Islamic Republic of Iran has served as an ideological inspiration for Hizballah since the Lebanese militant group's creation in 1982, and Tehran acknowledges that it supports the organization morally and politically. "Yes, we are friends of Syria and Iran" Hizballah leader Hassan Nasrallah has said. "For 24 years we benefited from our friendship with Syria and Iran for the sake of Lebanon...." (more)
RELATED ARTICLES
Tehran Playing Key Role In Israel-Lebanon Crisis
Iran, Hizballah Brush Off U.S. Terrorism Label
Intifada Conference In Tehran Has Multiple Objectives
UN Resolution Rankles Syria, Hizballah, Iran
ARCHIVE
RFE/RL
coverage of Iran
. RFE/RL web special on
Iran's nuclear program
.
SUBSCRIBE
For weekly news and analysis on Iran by e-mail,
subscribe to "RFE/RL Iran Report."