Foreign Minister Sergei Lavrov said sanctions would complicate diplomatic efforts to resolve months of confrontation between Tehran and the West.
Lavrov said the resolution, put forward by Western European countries spearheading efforts to curb Iran's nuclear program, will be unhelpful to six-power talks on the issue.
Britain, France, Germany, and the United States are promoting the resolution, but diplomats say the Washington also wants restrictions on Russia's construction of an $800-million nuclear reactor in Iran.
They say the United States wants assurances the plant in Bushehr will not provide Iran with a fuel cycle capable of producing weapons.
But U.S. Undersecretary of State Nicholas Burns says he believes agreement will be reached and that Bushehr will not be a "major stumbling point."
(Reuters, AP)
What The Street Thinks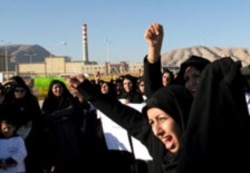 A demonstration in support of Iran's nuclear program outside the Isfahan uranium-conversion facility in Isfahan in January (epa)

IRANIANS SPEAK OUT ON THE DISPUTE: To find out more about what Iranians think about the international controversy over their country's nuclear program, RADIO FARDA asked listeners to express their views....(more)
See also:
Iran: Public Has Mixed Feelings On Nuclear Issue

THE COMPLETE PICTURE: RFE/RL's complete coverage of controversy surrounding Iran's nuclear program.
CHRONOLOGY
An annotated timeline of Iran's nuclear program.