State media say some 4.6 million people will receive packages of shares worth around $500 each. But the plan does not include Iran's oil and gas industries, and economists fear poor Iranians could find themselves holding stocks in failing companies.
(Reuters)
Women In Iran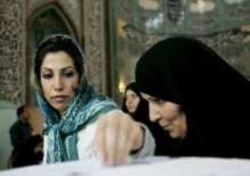 Women in Tehran (epa file photo)

CALLING FOR MORE RIGHTS: Although women played key roles in Iran's 1979 Islamic Revolution, the place of women in post-revolutionary society has been a vexing question. Iranian women have struggled to bring attention to their calls for greater rights in their country's rigid theocratic system, calls that have often clashed with the values proclaimed by conservatives in society. (more)
RELATED ARTICLES
Tehran Police Renew Campaign To Combat 'Un-Islamic' Dress
Iranian Peace Prize Laureate Shirin Ebadi On Women's Rights
Activists Concerned About Self-Immolation Of Iranian-Kurdish Women
The Younger Generation's 'Tehran Blues'
ARCHIVE
RFE/RL's coverage of Iran. RFE/RL's coverage of issues concerning women throughout our broadcast area.

SUBSCRIBE
For a regular review of civil-society developments throughout RFE/RL's broadcast region, subscribe to "RFE/RL (Un)Civil Societies."