Diplomat Says Russia Won't Back UN Resolution On Iran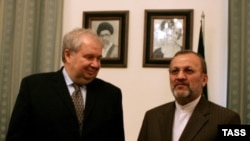 Kislyak (left) with Iranian Foreign Minister Manuchehr Mottaki in Tehran in January (ITAR-TASS) November 3, 2006 -- Deputy Foreign Minister Sergei Kislyak says Russia will not back the European draft resolution on Iran at the UN Security Council, saying the resolution "requires major fine-tuning."
The document -- drafted by Britain, France, and Germany -- imposes some
sanctions on Iran over its nuclear program.
While the United States has
indicated it considers the draft too weak, Russian Foreign Minister
Sergei Lavrov has suggested it was too strong.
(Interfax, AP)

THE COMPLETE PICTURE: RFE/RL's complete coverage of controversy surrounding Iran's nuclear program.
CHRONOLOGY
An
annotated timeline
of Iran's nuclear program.