With the exception of Kyrgyzstan, where fraudulent parliamentary elections in 2005 sparked unrest that eventually toppled President Askar Akaev, Central Asian nations have established a grimly familiar pattern for elections, be they presidential or parliamentary.
The incumbent, or party of power, enjoys overwhelming advantages in the form of positive coverage in state-controlled media, tacit support from election commissions, and energetic ensure-the-correct-vote efforts from local authorities. Dirty tricks trip up real (and sometimes imagined) opposition even as some oppositional window-dressing lends plausibility to claims of a competitive ballot. Western observers point to deficiencies amid signs of progress. Russian-dominated CIS observers find no fault. The opposition cries foul. The incumbent, or party of power, celebrates victory. And the status quo marches on.
Managed democracy has proved relatively effective at ensuring the continuation of a dubious status quo, although its record is far from perfect, as upheaval in Georgia, Ukraine, and Kyrgyzstan demonstrated.
A Known Pattern
With the election only three days away, Tajikistan has not deviated significantly from this basic script. Nevertheless, there are three good reasons for keeping an eye on Dushanbe even if a continuation of the Rakhmonov presidency seems assured.
First, what has come to be called managed democracy, in which ruling elites dutifully hold elections even as they do their best to predetermine their outcome, remains the system of choice in the post-Soviet world, and elections provide numerous insights into its nuts and bolts.
Second, perceptions matter -- with Tajikistan increasingly pursuing a multivector foreign policy, Western perceptions of the election may have geopolitical implications. And finally, reality matters -- what the nature of the election suggests about governance in Tajikistan has a direct bearing on the nation's future.
Managed democracy involves a wide variety of techniques that break down into two broad categories -- strengthening the powers-that-be, and weakening alternatives. Russian Prime Minister Vladimir Putin's emergence from obscurity in 1999 and election to the presidency in 2000 was a textbook example of the first category. The lead-up to Tajikistan's presidential election has neatly illustrated the second.
Jailing The Challengers
Recent years have witnessed the imprisonment of a number of potentially independent powerbrokers, most notably Ghaffor Mirzoev, former commander of the Presidential Guard and head of the Drug Control Agency; and Mahmadruzi Iskandarov, leader of the Democratic Party of Tajikistan. Mirzoev, who was arrested in August 2004, was sentenced in August 2006 to life in prison for a coup attempt, abuse of office, and murder. Iskandarov was convicted on terrorism and corruption charges and sentenced to a 23-year prison term in October 2005.
Meanwhile, splits have hobbled two opposition parties. After one wing of the Socialist Party held a conference in June 2004, rivals within the party charged that the authorities had masterminded a split.
The split has persisted with Abduhalim Ghafforov, a former official, representing the party in the presidential election while the faction that remains of the original party was denied registration by the Justice Ministry. Similarly, in April 2006, a faction of the Democratic Party split from the original party, still led by the imprisoned Mahmadruzi Iskandarov. In September, the Justice Ministry officially recognized Masud Sobirov, head of the rival wing, as the party's legitimate leader.
Perceptions of Tajikistan's presidential election are unlikely to play a major role in the country's relations with the outside world. Nevertheless, they are a factor for the West in light of stated commitments to democratic reform in Central Asia. With U.S.-based AES Corp. pursuing what could be a $1 billion project to export Tajik electricity to Afghanistan, Russia's Rusal in an apparent conflict with the Tajik government over a $1 billion project to finish construction on the Roghun hydroelectric plant, and Iran and China increasingly funding their own energy and construction initiatives in Tajikistan, the country is the focus of growing interest from outside powers.
The conclusions of election observers respected in the West, such as the Organization for Security and Cooperation in Europe (OSCE), could shape Western policy and thus subtly affect the competitive calculus of foreign involvement in Tajikistan.
Wanted: Good Governance
Finally, elections remain a reflection of governance. Tajikistan has posted impressive macroeconomic growth in recent years, a fact noted in testimony before the U.S. Helsinki Commission on October 26 by Dennis de Tray, who was the World Bank's country director for Central Asia until January.
But significant problems remain. Hundreds of thousands of Tajiks continue to seek a better fortune abroad as migrant workers, and their remittances are a major source of economic growth, as De Tray noted in his testimony. Poverty afflicts over half of the population, and an October 30 UN Food and Agriculture Organization report noted that undernourishment is worsening in Tajikistan, afflicting 60 percent of the population from 2001-03. The report described Tajikistan and Uzbekistan as countries that "have both seen a serious worsening of food security and currently experience very high levels of undernourishment."
Long-term solutions to these problems are highly unlikely in the absence of good governance, and a lack of resource revenues means that few funds are available for short-term solutions. Managed democracy has proved relatively effective at ensuring the continuation of a dubious status quo, although its record is far from perfect, as upheaval in Georgia, Ukraine, and Kyrgyzstan demonstrated.
Yet managed democracy's effectiveness at ensuring good governance is anything but evident. And this, in the end, is the real reason to keep an eye on Dushanbe as November 6 approaches.
Tajikistan's Presidential Election
Tajikistan's Presidential Election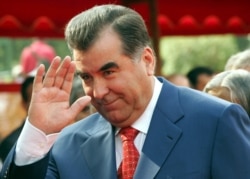 Imomali Rakhmonov has ruled Tajikistan since 1992 (epa file photo)


A THIRD TERM? On November 6, Tajikistan will hold its first presidential election since 1999. Incumbent President Imomali Rakhmonov is seeking a third term under controversial constitutional amendments adopted in 2003. The opposition has accused Rakhmonov's administration of using dirty tricks and legal pressure to split and weaken opposition parties. Most observers believe the November ballot will be less competitive than the 1999 election.
RELATED ARTICLES
Islamic Party Opts Out Of Presidential Vote
Opposition Disorganized As Presidential Election Nears
Lone Islamic Party Pursues Dual Path To Challenge Incumbent
Fractured Opposition Faces Uphill Battle Before Election
ARCHIVE
RFE/RL's
coverage of Tajikistan
. An RFE/RL web special on
Tajikistan's 2005 legislative elections
.
SUBSCRIBE
For weekly news and analysis on all five Central Asian countries by e-mail,
subscribe to "RFE/RL Central Asia Report."