"The draft [UN resolution] that was proposed by the EU-3 [Germany, Britain, and France] goes far beyond [our previous] agreements," Lavrov said at a press conference after talks with EU officials in Brussels today.
Major powers are expected to discuss this week at the United Nations the document drafted by Britain, France, and Germany on what steps should be taken against Iran over its nuclear program.
The United States has indicated it considers the draft to be too weak, while Russia and China are opposed to stronger measures.
At the talks today, EU officials had been expected to also raise concerns over tensions between Russia and Georgia. Lavrov said in order to ease tensions, Georgia had to stop what he described as its "hostile rhetoric" and "provocations."
Asked about the current standoff between the government and the opposition in Kyrgyzstan, Lavrov said the situation was "alarming," and said he hoped opposition protests would "stay within the law."
(compiled from agency reports)
Russian Sanctions On Georgia
Russian Sanctions On Georgia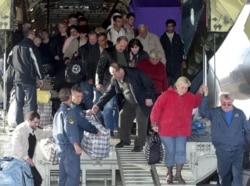 Georgian deportees arriving in Tbilisi on October 6 (epa)
RUSSIA DEPORTING GEORGIANS. Despite Georgia's release of four military officers accused of spying on October 2, Russia has continued its transport and postal blockade of Georgia, and has also deported hundreds of Georgians.... (more)
RELATED ARTICLES
Council Of Europe Head 'Concerned' About Reports Of Russian Sanctions
'No Time To Send Ambiguous Messages'
Ethnic Russians Feel Insulated From Tensions
Explaining West's Muted Response To Crisis
MORE: Coverage of the situation in Georgian from RFE/RL's Georgian Service and in Russian from RFE/RL's Russian Service.
ARCHIVE
RFE/RL's English-language coverage of
Georgia
and
Russia
.