Rakhmonov, who is seeking another seven-year term, admitted the election does not meet the standards of the Organization for Security and Cooperation in Europe (OSCE).
But he said there was no country in the world that "100 percent fulfills the requirements and standards of the OSCE. This is a question of choice, the right of the people, not a choice of political parties or movements. It is the people who decide, it is the right of the people. Nobody has the right to judge or assess any country."
The OSCE, whose observers are monitoring the vote, has said it had not observed any signs of a "competitive campaign."
Election officials in Tajikistan have already declared today's presidential election valid, with the required turnout of 60 percent of the country's over 3 million voters.
There is little doubt Rakhmonov will win. None of the other four candidates have been critical of the Tajik leader.
Rakhmonov was first elected president in 1994 and won a second presidential term in 1999. In 2003, a referendum enabled him to run for another two consecutive seven-year terms.
Tajikistan has never held an election judged free and fair by international observers.
(AFP)
Tajikistan's Presidential Election
Tajikistan's Presidential Election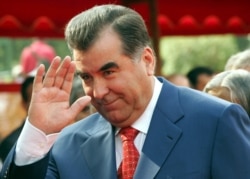 Imomali Rakhmonov has ruled Tajikistan since 1992 (epa file photo)


A THIRD TERM? On November 6, Tajikistan will hold its first presidential election since 1999. Incumbent President Imomali Rakhmonov is seeking a third term under controversial constitutional amendments adopted in 2003. The opposition has accused Rakhmonov's administration of using dirty tricks and legal pressure to split and weaken opposition parties. Most observers believe the November ballot will be less competitive than the 1999 election.
RELATED ARTICLES
Islamic Party Opts Out Of Presidential Vote
Opposition Disorganized As Presidential Election Nears
Lone Islamic Party Pursues Dual Path To Challenge Incumbent
Fractured Opposition Faces Uphill Battle Before Election
ARCHIVE
RFE/RL's
coverage of Tajikistan
. An RFE/RL web special on
Tajikistan's 2005 legislative elections
.
SUBSCRIBE
For weekly news and analysis on all five Central Asian countries by e-mail,
subscribe to "RFE/RL Central Asia Report."