Iranian President Mahmud Ahmadinead expressed hope today that the visit to Tehran marks a "turning point" in bilateral ties. Ahmadinejad described Iran and Belarus as "independent and powerful" states and said they enjoy good ties in a number of areas.
Two Regimes Avoiding Isolation

He made the comments after officially welcoming Lukashenka and his delegation at the presidential palace. Both sides then held a first of round of talks. Iran's official news agency, IRNA, reports that bilateral relations and key regional and international developments are among the main topics.
Lukashenka said in early September that Iran is a significant source of support for his country outside of the former Soviet Union.

Iran has expanded its ties in recent years with an impoverished former Soviet republic that many in the West describe as Europe's last dictatorship.

Belarus has also said its is keen to develop ties with Iran, which was famously branded part of U.S. President George W. Bush's "axis of evil." Lukashenka said in early September that Iran is a significant source of support for his country outside of the former Soviet Union.

Observers say both countries are seeking support in the face of increasing international isolation.

RFE/RL regional analyst Jan Maksymiuk says Iran is among the states some regard as an "outcast" in the world of global politics.
Common Stances

"Lukashenka doesn't have many places in this world where he can go and pay an official visit, because President Lukashenka is banned from visiting the European Union," Maksymiuk says. "He's also banned from visiting the United States. Of course Lukashenka cannot develop political ties, but there are also increasing problems for Belarus to develop economic ties, so Lukashenka is looking for ways [in which] to sell his products."

Today in Tehran, Ahmadinejad said the two countries share common stances on regional and international issues. He added that Tehran had "no limitations" on expanding ties with friendly countries like Belarus. For his part, President Lukashenka was quoted as saying that he and Ahmadinejad have taken cooperation between the two countries under their personal control.

Sadedgh Zibakalam, a professor of politics at Tehran's university, says Tehran feels it can benefit from stronger ties with Minsk.

"We are under intense U.S. pressure," Zebakalam says. "In general, ties with the EU are not very good, so relations with other [countries] -- even second- or third-rate European countries -- are valued by [Iran]. Nobody in Iran thinks that ties with Belarus will eliminate all our problems and needs. But it's still better than not having ties, even with Belarus, which is itself under pressure. Belarus would perhaps help us in armaments, and maybe in the future we could export oil and gas [shipments] to Belarus."
The Nuclear Issue

The visit comes as Tehran faces possible United Nations sanctions over its refusal to suspend sensitive nuclear work.

Belarus has expressed support for Iran's nuclear program and said that Tehran has the right to continue its nuclear activities within the framework of the Nuclear Non-Proliferation Treaty (NPT). Minsk officials have reportedly exported tanks, armored personnel carriers, and heavy artillery to Iran in the face of Western criticism. In April, "Jane's Intelligence Digest" reported that Belarus might be preparing to export sensitive Russian military technology to Iran.

Belarusian Foreign Minister Syarhey Martynau said on October 26, after a trip to Iran, that Lukashenka's visit was intended to strengthen bilateral relations -- and show solidarity with the Iranian leadership in the current standoff over Iran's nuclear program.

Zibakalam says ties with Belarus could help Tehran face possible UN economic sanctions.

"If sanctions are imposed against Tehran, then [Iran will need] not only Belarus but any country that helps Iran -- countries that will not take the sanctions very seriously and will continue their import and export to Iran despite the sanctions. Iran will need such countries very much," Zibakalam says.

Iranian news agency IRNA quotes Lukashenko as saying today that Tehran and Minsk should use their political ties as a stepping-stone for promoting trade and economic cooperation.

Lukashenka also vowed that obstacles to cooperation in the banking sector will be removed in the near future. In late October, Iran's semi-official Mehr news agency reported that Iran has proposed the establishment of a fully Iranian-owned bank in Minsk.

Iran has also expressed a readiness to boost its ties with Belarus in political, economic, commercial, educational, and tourist affairs.

Lukashenka, who last visited Iran in 1998, is also expected to meet with Iran's supreme leader, Ayatollah Ali Khamenei, during his two-days stay in Tehran.
Avoiding International Isolation
Avoiding International Isolation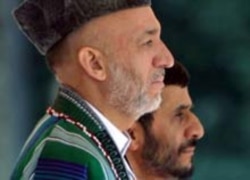 Afghan President Hamid Karzai (left) with Iranian President Mahmud Ahmadinejad in Tehran on May 27 (epa)
DIPLOMATIC OFFENSIVE:
As the United States and the European Union increase pressure on Iran regarding its nuclear program, Tehran has launched a wide-ranging and ambitious diplomatic offensive, including high-level state visits with countries including China, Indonesia, Afghanistan, Azerbaijan, and Pakistan. In May, Iranian President Mahmud Ahmadinejad participated in a high-profile
summit of the so-called Developing 8 (D8) group
of countries in Bali. Below are some links to RFE/RL's coverage of Iran's efforts to boost international support for its position.
Tehran's Shanghai Plans Seen As Bold Geopolitical Stroke
Nonaligned Movement Expresses Support For Iran
Afghan, Iranian Presidents Tout Strong Historical Ties
Iranian Foreign Minister In Pakistan For Energy Talks
Iranian Foreign Minister Visits Baghdad
ARCHIVE
To view all of RFE/RL's coverage of Iran, click here.

THE COMPLETE STORY: RFE/RL's complete coverage of controversy surrounding Iran's nuclear program.