The police were ambushed in the southern Shatoi District as they were returning to their base late on November 7.
A spokesman for Russian forces in the region, Nikolai Vavarin, said the attack occurred on a difficult stretch of road in a mountainous area and had apparently been well-planned.
"The convoy with the police officers has come under organized attacked, an ambush," Vavarin said. "There were killed and wounded. The group involved in the attack is known to us. The prosecutor's office and Interior Ministry officers are conducting an investigation to clarify the developments."
All the servicemen came from the Republic of Mordovia.
It was one of the deadliest attacks on Russian police this year in Chechnya. Large-scale fighting in Chechnya has largely subsided, but Russian forces and their Chechen allies regularly come under attack by Chechen separatists.
(compiled from agency reports)
The Chechnya Conflict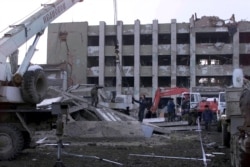 The aftermath of a December 2002 Chechen resistance attack on the main government building in Grozny (epa)


CHRONOLOGY
The
fighting in Chechnya
has raged, with short breaks, since 1994. It has brought misery, death, and destruction to the North Caucasus republic and to Russia as a whole. View an
annotated timeline
of the conflict.

ARCHIVE
RFE/RL's complete coverage of Russia's war-torn Republic of Chechnya.