Troops raided a building in Al-Muqdadiyah, 120 kilometers east of Baghdad, and killed 10 people suspected of being involved in bringing foreign fighters into Iraq.
On November 7, four suspected militants were killed and 48 detained in a raid in the western city of Al-Ramadi.
More than 20 people died the same day in a suicide bombing of a Shi'ite coffeehouse in Baghdad.
(AP, AFP, Reuters, dpa)

Sectarian Iraq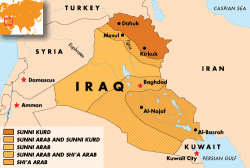 Click to enlarge the image.
SUNNI, SHI'A: Iraq is riven along sectarian lines, faults that frequently produce violent clashes and are a constant source of tension. Sectarian concerns drive much of Iraqi politics and are the main threat to the country's fragile security environment.


THE COMPLETE PICTURE: Click on the image to view RFE/RL's complete coverage of events in Iraq and that country's ongoing transition.